Boosting Your Revenue with the 5 Best AI Sales Tools (2023)
In today's ever-evolving business landscape, the term 'status quo' is becoming obsolete.
The introduction of Artificial Intelligence (AI) into the empire of sales has not only disrupted traditional approaches but also opened up a world of possibilities.
The AI revolution offers a golden ticket for those ready to embrace change and incorporate AI into their sales strategies.
Selling in the Age of AI
Selling has changed significantly, and I've seen it firsthand with the integration of Artificial Intelligence (AI).
In this article, I'll show you AI-powered sales tools, something I know well.
Join me as I share what's been a game-changer. These tools have been like trusted allies, boosting sales engagement, performance, and overall success.
Your Virtual Assistant That Never Rests
Think of it like having a virtual assistant that never stops, giving you real-time advice. AI tools have not just helped me; they've transformed my sales journey.
Deep Understanding for Stronger Connections
Understanding your customers deeply is key to successful sales. With AI's insights, I've made stronger connections using personalized approaches.
Closing Deals with Confidence
Closing deals becomes easier with AI's help, making processes smoother and boosting my confidence. The future of sales is AI-powered, setting new standards.
AI Sales Tools: Your Best Friends in Sales
These AI sales tools are like your best friends, guiding you towards sales success.
What Are the Best AI Sales Tools?
1. Customers.ai: Revolutionizing B2C Marketing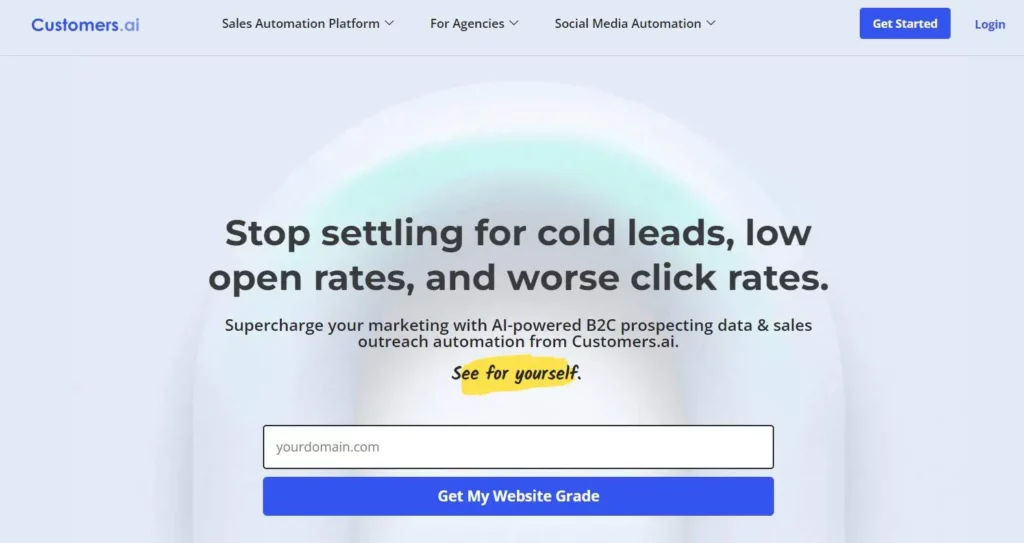 Precise Prospecting with AI:
Customers.ai leverages the power of AI technology to provide you with precise prospecting data and automation for your sales outreach.
With access to a database of over 250 million US consumer contacts, enriched with demographic, interest, and behavioural targeting data, this platform equips you to zero in on your ideal audience.
Automated Messaging for Engaging Audiences:
But it doesn't stop there. Customers.ai empowers you to automate your messaging, ensuring that you effectively engage your audience.
This automation isn't just about convenience; it's about driving opportunities and sales for your B2C company.
Ease of Use and Rapid ROI:
One of the standout features of Customers.ai is its user-friendliness and swift return on investment. It's designed for practicality, whether you're at the inception of a marketing campaign or seeking to optimize ongoing initiatives.
Key Features
Customer Data Integration: Customers.ai seamlessly connects with your various data sources, from CRM systems to transaction records and social media platforms.
It compiles this information to provide a comprehensive view of your customer's journey.
Advanced Analytics: Acting as your data detective, Customers.ai delves deep into your customer data, uncovering hidden patterns and valuable trends.
It's like having your own data deciphered, enabling you to understand your customers' preferences and behaviors inside out.
Customer Segmentation: Customers.ai acts as a matchmaker, drawing connections between customer groups based on commonalities.
This allows you to craft personalized marketing campaigns that hit the bullseye.
Interactive Dashboards and Reports: Complex data is presented in an easy-to-understand format. Insights are broken down on a user-friendly dashboard, making data exploration feel more enlightening than perplexing.
Marketing Automation Integration: Customers.ai seamlessly integrates with your preferred marketing automation platforms.
It empowers you to launch personalized marketing activities like a pro, guided by your customers' known preferences and behaviors.
Pricing
Free ($0): Get started with 50 total leads, no risk, and no credit card required. Access free lead capture and automated email outreach to website visitors.
Starter ($199/month): Manage up to 1,000 website visitors per month and 250 leads per month. Grow leads from website traffic and convert them with automated outreach sequences.
Pro ($499/month): Handle up to 4,000 website visitors monthly and 700 leads per month. Enjoy the benefits of integrating sales outreach automation with website lead generation, plus dedicated support and onboarding.
Enterprise (custom quote): For businesses with 5,000+ website visitors per month and a custom number of leads, Customers.ai offers tailor-made plans to meet your specific needs. This includes custom integrations, automation building, and training.
Customers.ai is not just a tool; it's your strategic partner in navigating the dynamic world of B2C marketing. So, let's embark on this journey together, and watch your marketing strategies become smarter, more effective, and more enjoyable. Success is within your reach.
2. GrowBots: Unlocking a Vast Prospect Database
A Vast Prospect Database:
At the heart of Growbots lies a treasure trove – a database teeming with over 160 million potential prospects.
This invaluable resource empowers you to not only discover but also connect and nurture relationships with fresh leads.
The Concierge Service:
One standout feature is the thoughtful Concierge service, which serves as your trusty sales automation companion.
It works tirelessly alongside you, devising a highly effective outbound campaign over a three-month period. The result? A steady flow of promising opportunities.
Key Features
Outbound Sales Automation: Growbots simplifies outbound sales processes, allowing businesses to streamline and optimize their sales endeavours effortlessly.
Extensive Database: With access to over 160 million potential clients, Growbots ensures that discovering and connecting with new prospects is a matter of minutes, not days.
Concierge Service: The Concierge service is your personal guide to crafting and executing successful outbound campaigns. It collaborates with you to ensure that your efforts are targeted and effective.
Outbound Sales Tool: Growbots' outbound sales tool is designed to make your life easier. It's user-friendly and intuitive, allowing you to focus on building relationships instead of grappling with complex software.
Time-Saving Solution: Time is of the essence in sales. Growbots understands this and offers a solution that frees up your time, enabling you to concentrate on high-value tasks.
Customized Campaigns: One size doesn't fit all in sales. Growbots recognizes this and ensures that your campaigns are tailored to your unique needs and objectives.
Pricing
Outreach ($49/month): The Outreach plan is perfect for individuals and businesses looking to kickstart their outbound sales efforts. It includes access to the extensive database, the Concierge service, and the outbound sales tool.
All-in-One ($199/month): The All-in-One plan is designed for growing businesses that require more robust outbound sales capabilities. It includes all the features of the Outreach plan, plus advanced reporting and analytics.
Pro (custom quote): For larger enterprises with specific needs, Growbots offers a Pro plan that can be customized to meet your exact requirements. This plan includes dedicated support and additional features.
Growbots offers a 15% discount when you decide to upgrade from the free trial. So, you can explore all these features and see the results for yourself.
3. Respond.io: Automating Customer Interaction
Streamlined Customer Interaction:
Respond.io revolutionizes customer interaction by automating interest tagging in conversations. This makes lead list creation effortless and paves the way for marketing campaigns through SMS and WhatsApp. Think of it as your personal promotion broadcast center, simplifying the dissemination of business updates on a large scale.
Unified Automated System:
Respond.io brings together customer interactions, CRM data, and agent actions into a unified automated system. It serves as your inbox, analytics tool, and command centre for all things customer-related. Plus, it syncs seamlessly with a variety of business-specific channels and sales CRMs.
Key Features
Unified Messaging Platform: Respond.io provides a centralized platform where you can manage customer interactions across multiple channels, including WhatsApp, SMS, Facebook Messenger, and more.
Omni-channel Customer Inbox: The omni-channel inbox ensures that you never miss a customer message, allowing you to respond promptly and effectively.
Segmentation and Targeting: Respond.io offers powerful segmentation and targeting features, enabling you to send personalized messages to specific customer groups based on their preferences and behaviors.
Broadcast Messaging: Promote your products or services to a wide audience with ease using Respond.io's broadcast messaging feature.
Automated Workflows: Create automated workflows to streamline your customer interactions and save time on repetitive tasks.
Intelligent Contact Routing: Respond.io intelligently routes incoming messages to the right team or agent, ensuring that customer inquiries are handled by the most qualified individuals.
Drip Campaigns Across Channels: Implement drip campaigns that span multiple channels, nurturing leads and guiding them through the customer journey.
Pricing
Team ($79/month): The Team plan is designed for small teams and includes features like the omni-channel inbox, automated workflows, and broadcast messaging.
Business ($249/month): The Business plan is ideal for growing businesses and offers advanced features such as intelligent contact routing, segmentation and targeting, and custom branding.
Enterprise (custom quote): For large enterprises with specific needs, Respond.io offers custom pricing plans that can be tailored to your requirements. This includes advanced integrations, dedicated support, and more.
You can explore the platform with a 14-day free trial to see how Respond.io can transform your customer interactions and streamline your sales and marketing efforts.
4. Manychat: Elevating Sales with AI-Powered Conversations
Personalized Chats with AI:
Manychat takes customer engagement to the next level by facilitating personalized conversations through Facebook Messenger and Instagram Direct messages. It goes beyond basic chatbots by capturing customer information, such as emails and phone numbers, for future communication via email or SMS.
Flow Builder for Personalized Conversations:
Manychat's Flow Builder feature allows you to create personalized conversations using a flowchart interface. This means you can design intricate chatbot sequences that respond to customer interactions in real-time.
AI-Powered Keywords and Comments Automation:
Manychat's AI-powered Keywords and Comments Automation feature enables your chatbot to initiate conversations and provide instant responses to Instagram comments. This proactive approach ensures that your customers receive the information they need promptly.
Key Features
Email Marketing Software: Manychat includes built-in email marketing capabilities, allowing you to nurture leads and customers through email campaigns.
Personalized Customer Experience: With Manychat, you can create highly personalized customer experiences by tailoring chatbot interactions to individual preferences and behaviours.
Salesforce Integration: Manychat seamlessly integrates with Salesforce, enabling you to sync customer data and interactions between the two platforms.
Mobile App: Stay connected with your customers on the go with Manychat's mobile app, which allows you to manage conversations and monitor performance from your smartphone.
Sales Automation: Automate repetitive sales tasks and processes, freeing up your time to focus on building relationships and closing deals.
Pricing
Free: Manychat offers a free plan with basic chatbot features and up to 1,000 subscribers.
Pro ($15/month): The Pro plan includes advanced chatbot features, email marketing, and up to 5,000 subscribers.
Premium (custom quote): For businesses with larger subscriber lists and specific needs, Manychat offers custom pricing plans that can be tailored to your requirements.
Manychat redefines the sales landscape with AI-powered conversations that engage customers in meaningful ways and drive sales results.
5. Seamless AI: Revolutionizing B2B Sales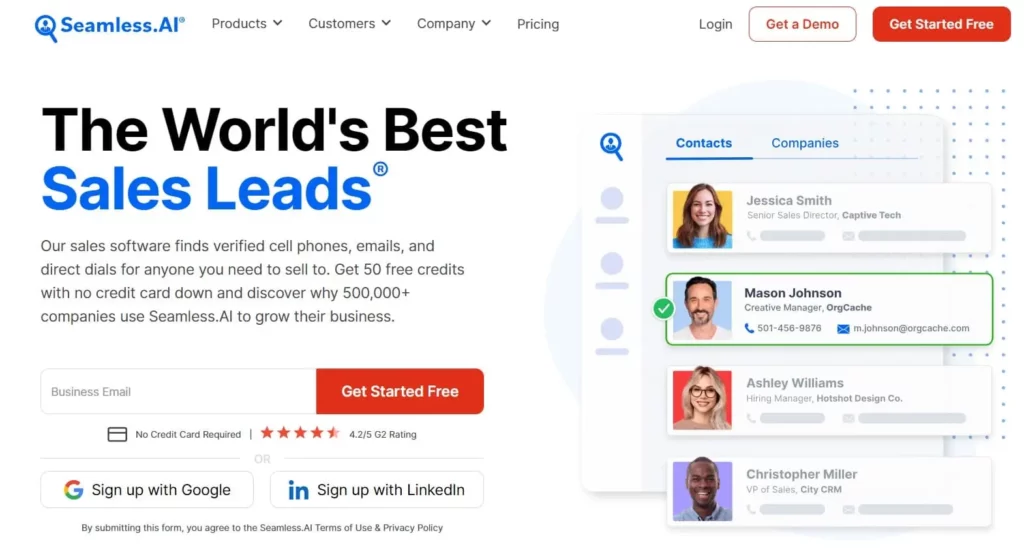 Simplifying B2B Prospecting:
Seamless AI makes B2B prospecting a breeze with access to a vast database of 1.9 billion contacts and companies. It seamlessly integrates with marketing platforms like Salesforce, HubSpot, and LinkedIn Sales Navigator, providing instant access to valuable information.
AI-Powered Predictions:
One of the standout features of Seamless AI is its AI-powered predictions. It uses advanced algorithms to predict which leads are most likely to convert into customers, allowing you to prioritize your outreach efforts effectively.
Key Features
Limitless Exploration: With access to 1.9 billion contacts and companies, Seamless AI gives you the freedom to explore and discover potential leads without limitations.
AI-Powered Predictions: Leverage the power of AI to identify high-potential leads and focus your sales efforts where they'll have the most impact.
Comprehensive Contact Insights: Get a detailed view of each contact, including their job title, company, contact information, and more.
Tailored Industry Filters: Refine your search by applying industry-specific filters to find leads that match your target market.
Effortless Team Collaboration: Seamless AI allows your sales team to collaborate seamlessly by sharing leads and insights within the platform.
Automated List Building: Quickly build lists of leads that meet your criteria, making it easy to launch targeted outreach campaigns.
Pricing
Starter ($149/month): The Starter plan is designed for individuals and small teams and includes features like access to the contact database, AI predictions, and data enrichment.
Growth ($349/month): The Growth plan is ideal for growing businesses and offers advanced features such as team collaboration and automated list building.
Enterprise (custom quote): For larger enterprises with specific needs, Seamless AI offers custom pricing plans that can be tailored to your requirements. This includes custom integrations, dedicated support, and more.
Seamless AI empowers B2B sales professionals with the tools they need to discover, engage, and convert high-quality leads into loyal customers.
How to Choose the Best AI Sales Tool?
The world of AI sales tools may seem like a vast jungle but fear not, we're here to guide you through the undergrowth. When selecting the perfect AI sales tool for your needs, remember these expert tips:
1. Understand Your Requirements:
Before plunging into the AI sales tool landscape, pause and assess your specific needs. Are you looking for help with sales engagement, prospecting, or another aspect of the sales process? Pinpoint your priorities to make an informed decision.
2. Evaluate User-Friendliness:
Outstanding AI sales tools should be a breeze to integrate and use. Look for tools that offer a seamless, intuitive interface, allowing you to focus on clients rather than wrestling with complex software.
3. Consider the Learning Curve:
Choose tools that provide informative resources and responsive customer support to assist your learning journey. Whether you're a newcomer or an AI pro, having guidance along the way is invaluable.
4. Respect Your Budget:
AI sales tools come in various price ranges, so it's essential to identify options that align with your budget. Weigh the features and benefits against your financial constraints to find the best fit.
5. Measure Your Success:
Opt for tools that transparently demonstrate their impact on your sales results. Monitoring your chosen AI tool's success will enable you to fine-tune your decisions and plan for future upgrades.
6. Seek Insights and Feedback:
Don't hesitate to gather insights from colleagues, explore online forums, and delve into user reviews. Their valuable feedback can lead you to the perfect AI sales tool that meets your unique requirements.
What To Look For in the Best AI Sales Assistant Tool?
Choosing the right AI sales tool can be like finding a needle in a haystack—unless you know precisely what to look for. Here's a straightforward checklist of key features to keep in mind:
1. Ease of Use: An intuitive interface goes beyond aesthetics; it can make or break your experience. Ensure the tool empowers rather than hinders your sales efforts.
2. Integration: The best AI sales tools don't operate in isolation. They seamlessly integrate with your existing tech stack, enhancing your current processes. Look for tools that effortlessly connect with your CRM system, email platform, and more.
3. Scalability: Your chosen sales tool should grow with your business. Seek options that accommodate your current scale while remaining adaptable to future growth and changes in strategy.
4. Data Analysis: A robust sales strategy relies on solid data. Your tool should not only collect relevant data but also provide meaningful insights to shape your sales tactics effectively.
5. Automated Tasks: AI tools shine by automating mundane tasks, freeing your time to focus on the human aspect of sales. Choose tools that handle the nitty-gritty while you perfect the art of engagement.
6. Customer Support: Even the most advanced technology may leave you with questions. In such moments, a responsive support team becomes invaluable.
7. Affordability: Consider the overall cost and return on investment. Ensure your chosen tool offers excellent value for its price and significantly contributes to your bottom line.
Final Thoughts on Best AI Sales Tool Software
In summary, these advanced AI-powered sales tools can be a game-changer for your sales efforts.
However, it's crucial to remember that while AI can analyze data effectively, it's not a substitute for excellent communication skills.
To succeed in sales, your sales reps should combine AI tools with their ability to connect and engage with prospects.
Ultimately, it's the human touch that makes all the difference in creating effective relationships and closing deals.
If you enjoyed this article, don't miss the opportunity to explore our in-depth guide on the '10 Best AI Presentation Software: Revolutionize Your Pitch in 2023.' Dive into the world of cutting-edge presentation tools and take your pitches to the next level.