Measure What Matters: Top 10 Content Marketing Metrics you must track in 2023
In today's digital landscape, creating compelling content is a priority for businesses striving to attract and engage customers.
However, how can you measure the effectiveness of your content?
Which types of content deliver the best results among the various options available?
Enter content marketing metrics – the key to monitoring your progress and evaluating the impact of your efforts.
While the world of digital metrics can be overwhelming, fear not.
I've curated a list of the top content marketing metrics you can monitor to track your progress effectively.
The Best Content Marketing Metrics to you should start monitoring today:
1-Keyword Rankings
To make your content discoverable, it needs to rank well.
By focusing on specific keywords and optimizing your content for search engines, you enhance its visibility and attract organic traffic.
Monitoring keyword rankings allows you to gauge whether you're moving in the right direction.
Several rank-tracking tools are available to help you track and analyze your keyword performance.
2-Conversion Metrics
Conversion metrics are crucial for assessing the success of your campaigns.
Whether it's measuring the number of attendees for a live-streaming event or tracking clicks on your ads, conversion metrics provide insights into the effectiveness of your marketing efforts.
Key conversion metrics include
Implementing an inbound marketing plan can also yield significant results by acquiring clients, building trust, and nurturing long-term loyalty.
3-Unique Page Views
Understanding your unique page views is crucial for assessing the level of engagement with your content.
This metric reveals the number of individuals who view a page for the first time, providing insights into the reach and appeal of your content.
Analyzing unique page views and combining them with customer surveys can help you tailor your content to align with your audience's interests.
4-Website Traffic to Website Lead Ratio
Your website's success should be measured not only by the volume of traffic but also by the number of leads it generates.
Evaluating the conversion rate of your website traffic into leads and actual customers provides a comprehensive understanding of your website's performance.
Identifying areas for improvement in your content strategy can help maximize your conversion rates and drive meaningful customer actions.
Many businesses consider their website to be a primary and highly effective marketing channel.
However, simply dedicating resources to keeping the website updated and maintained does not guarantee success.
To be truly valuable to your company, your website must generate leads, a significant portion of which should convert into actual customers.
Given its critical role, it is important to maintain your website well, both in terms of design and content.
If you lack the necessary skills or time to create a website that aligns with your goals and looks appealing, using a website builder is the optimal choice.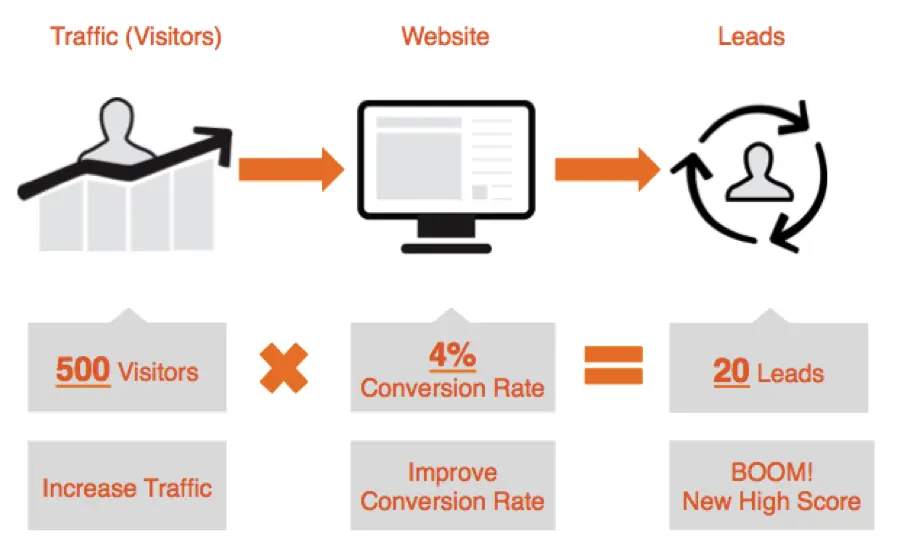 In this marketing scenario, the quality of traffic to your website can be assessed by its conversion rate, which includes metrics such as leads, qualified leads, quotes, and sales.
Analyzing the points at which visitors lose interest in your site can provide valuable insights into areas of your content strategy or messaging that require improvement.
Additionally, employing NPS software can automate the customer experience (CX) and enhance engagement.
If you encounter difficulties with your content marketing strategy, hiring a small business coach may be a worthwhile consideration to help you plan and execute a successful marketing campaign.
However, it is essential to approach the coaching experience proficiently, and in this case, using a coaching contract template is advisable.
5-ROAS (Return On Ad Spend)
Monitoring your Return On Ad Spend (ROAS) is essential for assessing the effectiveness of your advertising investments.
It measures the additional income generated for each dollar spent on advertising, indicating whether your ad spend is delivering a worthwhile return.
6-Sentiment Analysis
Leveraging sentiment analysis, particularly on social media, allows you to monitor how people respond to your content marketing initiatives. 
By tracking mentions of your brand, you can gauge your online reputation and understand how your audience perceives your content.
7-Landing Page Conversion Rates
For businesses engaged in email marketing and social media campaigns, landing pages play a vital role.
While click-through rates are important, evaluating visitors' actions on your landing pages is paramount.
The landing page conversion rate measures the percentage of visitors who take the desired action, providing insights into the effectiveness of your landing page design and content.
Customer relationship management (CRM) systems are a valuable tool for supporting content management.
Utilizing free CRM software that gathers input from various stakeholders can improve content production compared to manual methods and aid in the development of a robust content strategy.
Once your marketing efforts start generating revenue, it becomes essential to effectively manage your finances.
Invoice generators offer a convenient solution to swiftly and effortlessly create invoices while maintaining a centralized record of all your expenses.
Alternatively, you can design detailed and easily comprehensible invoices before sending them out. This ensures efficient financial tracking and organization.
8-Backlinks
Backlinks are valuable indicators of the authority and appreciation your content receives.
Each backlink acts as a vote of confidence from other websites, signalling their endorsement and enhancing your reputation.
Building a strong network of backlinks can boost your organic visibility and attract a wider audience.
As often stated by SEO experts, each link can be seen as a vote of confidence.
When you acquire unsolicited backlinks from reputable websites, it piques the interest of your audience and enhances your reputation in the eyes of both your readers and Google's ranking algorithm.
9-Share of Search
Share of Search is a relatively new metric that provides insights into brand awareness.
It measures the volume of search queries for your brand compared to the overall search inquiries within your industry.
Although content marketing may not have direct control over this metric, it serves as a strong indicator of your brand's recognition and popularity.
10-Email Marketing Performance
Email marketing remains a powerful channel, but its effectiveness should not be taken for granted.
Assessing open rates, click-through rates, and the rate of forwards or shares allows you to refine your email marketing strategy and identify the types of content that resonate most with your audience.
Personalized attention and careful consideration are essential when it comes to email marketing, as it cannot be effectively scheduled and managed solely through marketing automation.
Final Thoughts – Content Marketing Metrics 
By effectively selecting and monitoring these content marketing metrics, you gain a comprehensive understanding of your audience's engagement with your brand and content.
With this knowledge, you can refine your overall strategy and continually improve your content marketing efforts.
Remember, each metric tells a unique story about your content's performance, enabling you to make data-driven decisions and optimize your marketing tactics.
Leverage the data provided to enhance your business and drive immediate improvements today.