The 5 Best AI Profile Picture Generator Tools in 2023
In today's social media-driven world, picking the perfect profile picture can be quite overwhelming.
How many times have you struggled to choose the right photo, only to feel disappointed with how you look in it?
That's where the best AI profile picture generator tools come to the rescue! 
These awesome tools can turn your regular selfies into cool profile pictures that will wow your friends, and family, and even impress potential employers.
No matter what you're going for, you can easily create personalized images for all your social media accounts in just a few minutes. 
Let's check out the top AI profile picture generator tools that will help you create amazing and realistic profile pictures with ease.
What are the Best AI Profile Picture Generators?
Photo AI is a revolutionary platform that excels in crafting synthetic images using advanced artificial intelligence technology.
As the pioneer AI photographer in the market, this innovative image generator focuses on creating a diverse array of visually captivating photographs, offering you a unique and ingenious approach to crafting your digital image.
With Photo AI, the creative possibilities are endless when it comes to designing your perfect profile picture.
You have the freedom to train your very own AI model, write a personalized prompt, replicate an existing photo, or even curate a custom photo shoot.
Once you're done, brace yourself to generate up to 16 incredibly realistic and lifelike images, each sure to impress!
Photo AI Features:
Let's explore Photo AI, a state-of-the-art platform specializing in crafting synthetic images using advanced AI technology.
Here are the key features:
Diverse Image Selection: Choose from a wide range of visually captivating photographs to create a stand-out profile picture.
Customization Options: Train your own AI model, write a unique prompt, copy an existing photo, or design a custom photo shoot.
Realistic Results: Generate up to 16 photo-realistic images that look incredibly lifelike.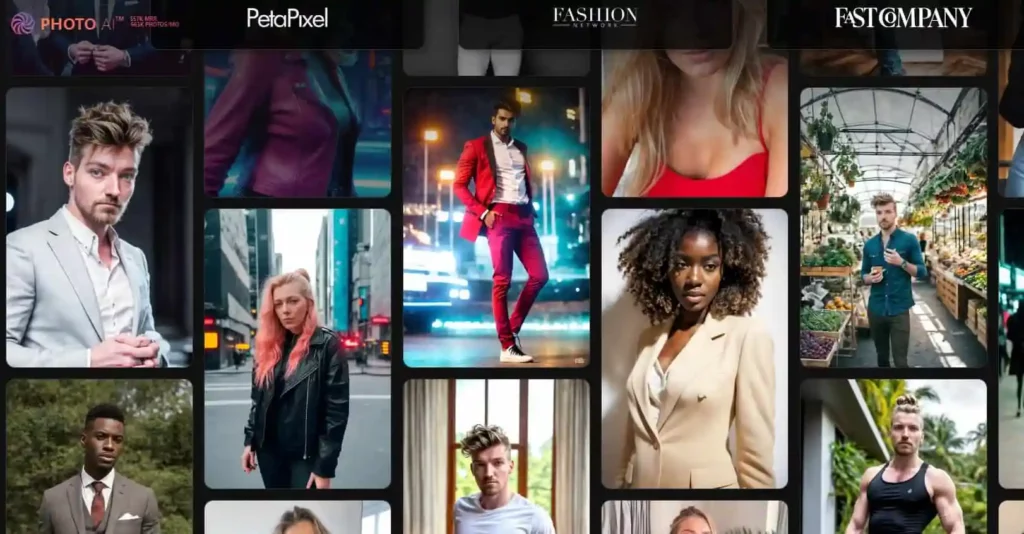 User Experience/Examples:
The images created by Photo AI are simply breathtaking.
This platform showcases the true might of AI technology, producing exceptional, realistic, and captivating images suitable for use as profile pictures or avatars on the internet.
Pricing:
Now, let's talk about the pricing of Photo AI.
While it offers premium features and top-notch quality, it's essential to keep in mind that this tool is slightly more on the expensive side. Here are the pricing plans:
Pro: $24 per month, includes training 5 models and taking 1,000 pictures. It also allows you to use the magic photo editor.
Premium: $82 per month, offers the ability to train 25 models and take 5,000 photos.
Business: $249 per month, comes with a whopping 100 models and 25,000 photos.
If you're looking to up your profile picture game with ultra-realistic and top-quality images, Photo AI is definitely worth considering.
Its advanced AI capabilities will elevate your online presence, leaving a lasting impact on your audience.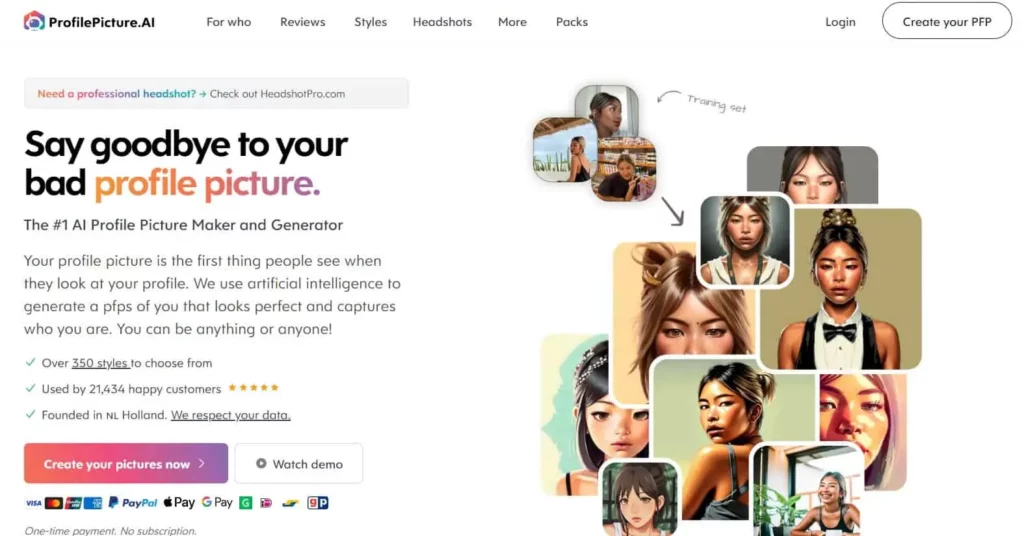 ProfilePicture AI is an outstanding platform that allows you to create breathtaking images from your own photographs, utilizing an impressive collection of 357 unique styles.
If you're someone who craves a distinct and eye-catching appearance for your social media profile pictures, this AI image generator is tailor-made for you.
Using ProfilePicture AI is a breeze.
Simply upload your preferred photo, and let the magic unfold.
Within just a few minutes or a couple of hours, you'll be presented with a vast array of distinctive and personalized profile picture options at your fingertips.
As one of the leading AI image generators, ProfilePicture AI offers a wide range of packs to suit diverse preferences, including styles for LinkedIn, YouTube, WhatsApp, Cool, Discord, video games, TikTok, funny, anime, and many more categories.
Key Features of ProfilePicture AI:
Styles: Access a whopping 357 unique styles to give your profile pictures that extra flair.
High Resolution: Download your profile pics in stunning 4K format (4096×4096) and 300 dpi, ensuring top-notch quality.
Packs: Choose from various packs designed for different social media platforms and style preferences.
Pricing of ProfilePicture AI:
Here are the available pricing options:
Small ($12.80): Includes 96 photos and 12 styles in 512×512 resolution.
XL ($23.60): Provides 280 photos and 35 styles in 4K resolution.
All ($39.60): Grants access to a whopping 900+ photos, featuring all available styles in glorious 4K resolution.
Ready to give your profile pictures a unique and stunning makeover?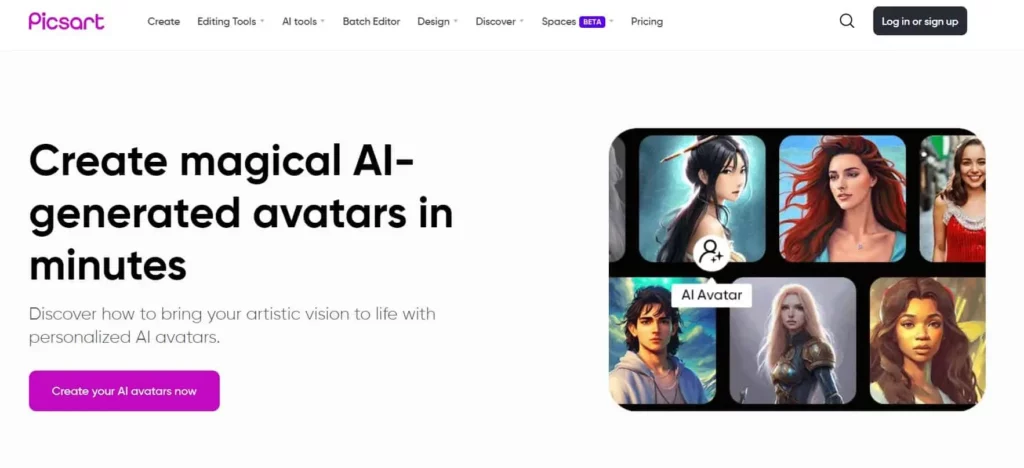 With the Picsart AI Avatar generator, you can now create a tailored profile picture from any photo you upload on your mobile device.
This innovative platform harnesses advanced artificial intelligence to transform your personal images into captivating artistic creations.
Once you submit your photo, the AI system analyzes facial features like eye shape, nose, mouth, skin tone, and overall facial structure to craft the perfect image for you.
Utilizing cutting-edge AI and machine learning techniques, this profile picture generator meticulously scrutinizes the unique characteristics of your uploaded image to create a personalized AI avatar that closely resembles your real-life appearance.
The platform offers a plethora of styling choices, including a wide selection of hairstyles and accessories, making it easy to design an online persona that truly reflects your personality.
For incredibly authentic AI profile pictures or avatars, it's recommended to provide 10-30 images with varied facial expressions and angles.
Uploading the maximum number of recommended photos ensures the best results.
After making a one-time payment for your custom avatar, you can choose from two package options that include either 100 or 200 profile pictures to use at your discretion.
Key Features of Picsart AI Avatar:
AI Profile Images: Create virtual representations of yourself or others, perfect for social media profiles, gaming avatars, or entertainment.
Unlimited Styles: Benefit from a limitless variety of avatar styles, thanks to the sophisticated AI algorithm that consistently produces distinct avatars with each use.
Personalization: Customize your profile picture according to your preferences with a wide selection of hairstyles, attire, accessories, and more, allowing you complete creative control.
Lifelike Avatars: Immerse yourself in the incredibly realistic appearance of the avatars, expertly crafted using advanced facial analysis and feature identification technology.
Pricing of Picsart AI Avatar:
While the Picsart app can be downloaded for free, the AI-generated profile pictures are a premium feature exclusively available to users. Here are the pricing options:
100 Unique Avatars (€4.99): Includes 10 variations of 10 different styles.
200 Unique Avatars (€5.99): Provides 20 variations of 10 styles.
With Picsart AI Avatar, you can now create personalized and lifelike profile pictures that truly represent your unique identity.
So why wait?
Make your digital presence stand out with Picsart AI Avatar!
The Fotor AI Avatar Generator is a highly influential and robust tool that harnesses the power of AI to produce exceptional and personalized profile pictures.
It stands out as one of the most prominent AI avatar generators and is part of Fotor's collection of AI-driven tools, which includes an AI Image Generator, an AI Face Generator, a Photo Enhancer, and more.
What sets this AI profile picture generator apart is its versatility – it can create images not only based on photos of humans but extends its magic to pets as well!
So, whether you want a unique profile picture for yourself or your furry friend, Fotor AI has got you covered.
The creativity doesn't stop there!
If you have a creative mind, you can even fabricate AI profile pictures from text descriptions.
Just provide the perfect description of what you desire, and Fotor's AI technology will work its magic to bring your vision to life.
Once you've crafted your perfect AI profile picture, you can easily download it in multiple formats.
This allows you to use it as your profile picture on various social media platforms or get creative with other applications of your choice.
Key Features of Fotor AI Avatar Generator:
AI Avatar from Photo: Upload your selfie, and let the AI work its magic to create stunning images from your photos.
Aspect Ratios: Choose from several aspect ratios, such as 1:1, 4:3, and 3:4, for your AI-generated images, ensuring they fit perfectly on different platforms.
Art Styles: Unlock a variety of styles like oil painting, anime, art nouveau, 3D, and more, giving your profile picture a unique touch.
Customizations: Enhance your custom AI profile picture further with photo effects in Fotor's photo editor, giving you full control over the final look.
Pricing of Fotor AI Avatar Generator:
As a new user, Fotor offers you 5 complimentary credits to get started.
Once you've used these credits, you can continue generating distinctive images using the tool by acquiring additional credits.
Here are the available pricing options:
200 Credits/mo x12 (€3.33/mo)
500 Credits/mo x12 (€6.66/mo)
1000 Credits/mo x12 (€12.08/mo)
2000 Credits/mo x12 (€19.99/mo)
With Fotor AI Avatar Generator, you have the power to create personalized and artistic profile pictures that reflect your unique style.
Try out Fotor AI, and elevate your online persona like never before!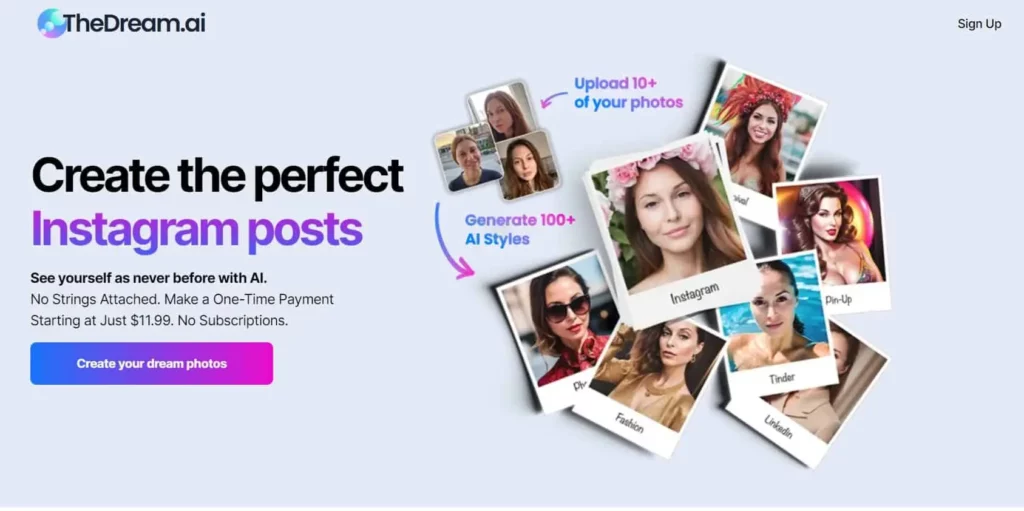 TheDream.ai is your ultimate tool, just like ProfilePicture AI, designed to help you create the ideal profile pictures that truly represent you.
Offering a wide range of categories, such as vision, tinder, realism, business, sports, fantasy, artistic, illustration, and movies, this AI image creator caters to various preferences, giving your online persona a remarkable boost.
With its user-friendly and visually pleasing interface, TheDream.ai makes the whole process effortless.
Simply upload 10+ photos or selfies, choose your subject (man, woman, pet, couple), pick your preferred bundle option, and proceed to checkout – it's that simple!
Key Features of TheDream.ai:
Profile Pictures: Dive into a world of creativity and generate hundreds of profile pictures based on fantasy, sports, business, movies, and many other captivating styles.
Art Styles: Choose from an impressive selection of 50 different art styles to give your AI-generated image a unique and artistic touch.
Security: Rest assured, your photos are safe with TheDream.ai. They value your privacy, and all your uploaded photos are deleted from the servers after 24 hours.
Pricing of TheDream.ai:
While there's no free trial, TheDream.ai offers affordable pricing options for creating amazing images:
Taste ($3.75): Get 24 profile pics from 3 styles at a budget-friendly rate.
Small ($11.99): Unlock 96 profile pics from 12 styles, ensuring a diverse collection for your profile.
Large ($14.75): Enjoy 240 profile pics from 30 styles, giving you a wide range of options to showcase your personality.
XL ($19.75): Go all out with 400 profile pics from 50 styles, perfect for those who love experimenting with different looks.
With TheDream.ai, you can create stunning and diverse profile pictures without any hassle.
AI Profile Picture Generators vs AI Image Generators: Understanding the Difference
Both AI profile picture generators and AI image generators harness the power of artificial intelligence to create visually stunning content, but they serve distinct purposes.
AI Profile Picture Generators:
These generators are focused on producing customized avatars or portraits for users.
Their primary use is to create unique and visually appealing profile images for social media accounts, professional platforms, and other online identities.
By taking into account users' preferences and styles, AI profile picture generators can accurately depict their personalities and desired aesthetics.
AI Image Generators:
AI image generators, such as Bing image creator, are highly versatile and dynamic tools.
They are meticulously designed to produce a wide range of visually appealing images, including illustrations, landscapes, objects, and abstract art.
These unique AI art generators are favoured by artists, designers, and content creators for generating authentic visuals for various projects or sparking new ideas in art creation.
AI image generators operate based on specific prompts or descriptions, making them invaluable resources for generating diverse visual content.
In summary, the main difference lies in their intended purpose:
AI profile picture generators are specialized in creating personalized avatars for individual users, enhancing their online presence.
On the other hand, AI image generators offer a broader range of options, catering to artists and designers seeking to generate diverse and authentic visuals for various creative endeavours.
Best AI Profile Picture Generator Tools: Wrap Up.
If you're looking to create multiple captivating profile pictures for your social media platforms, these top-notch AI profile picture generators are your go-to solution.
With the help of these AI tools, AI meme generators, and AI design software tools, you can craft sophisticated, striking, humorous, and lifelike images, giving your digital identity a fresh and inventive makeover.
So, get ready to make a lasting impression on Facebook, Instagram, TikTok, Twitter, and more!
Don't hesitate to try out these incredible tools and elevate your online presence to new heights.
If you enjoyed this article, be sure to check out 10 Best AI Presentation Software: Revolutionize Your Pitch in 2023. Take your presentations to the next level with cutting-edge AI-powered tools that will leave your audience impressed and engaged!