5 Best AI Meme Generators To Create Fun & Engaging Content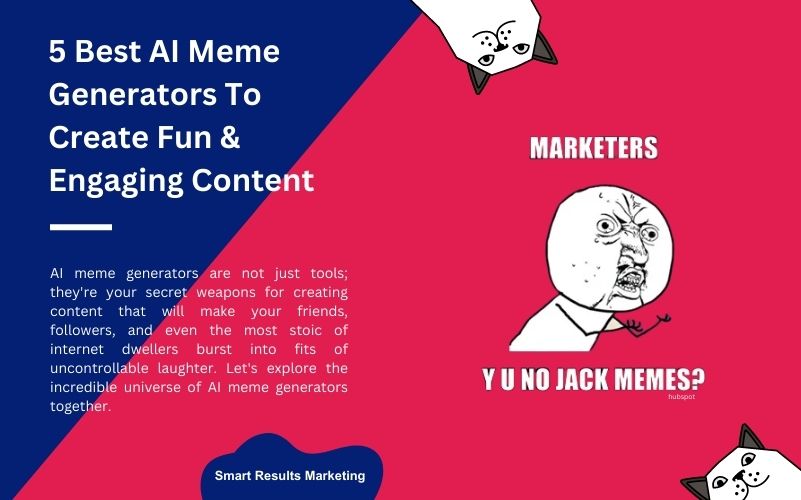 Looking to spice up your online content with some epic humour? 
Imagine having an AI-powered sidekick at your disposal, equipped with an arsenal of meme templates and the uncanny ability to generate hilarious captions on demand. 
In today's digital age, memes have become the holy grail of laughter, captivating audiences and bringing people together through shared hilarity across social media.
But let's face it, crafting the perfect meme can sometimes feel like searching for a needle in a haystack.
That's where AI meme generators swoop in to save the day, bringing a whole new level of ease and ingenuity to the meme-making process.
These AI meme generators are not just tools; they're your secret weapons for creating content that will make your friends, followers, and even the most stoic of internet dwellers burst into fits of uncontrollable laughter.
Without further ado, let's jump right in and explore the incredible universe of AI meme generators together.
Best AI Meme Generators: 
▶ Best for Multilingual Meme Creation: Supermeme.ai
▶ Best for Humorous Memes: ImgFlip
▶ Best for Comparison Memes: Makememe.ai
▶ Best for Versatile Meme Creation: Kapwing
▶ Best for Up-and-Coming Meme Creation: Predis.ai
What are the Best AI Meme Generators?
1. Supermeme.ai:
Supermeme.ai stands out as an exceptional AI meme generator tailored for professionals and businesses.
Their vision is to break to monotony in marketing and their mission is to democratise meme creation.
It offers users the flexibility to create top-notch memes in multiple ways: by typing a sentence, selecting a theme, or even describing their emotions.
Whichever method you choose, the advanced AI technology will generate a relevant and high-quality meme to suit your needs.
Key Features
Extensive Template Database:
Supermeme.ai boasts a vast collection of high-quality templates.
You can access a wide range of images without watermarks, ensuring your memes look polished and professional.
The templates are carefully curated, guaranteeing that they are free from offensive or NSFW content.
True AI Meme Generator:
Unlike other popular tools that merely allow you to edit existing images, Supermeme.ai is a genuine meme generator powered by AI.
It utilizes advanced algorithms to actually generate memes, providing a unique and creative approach.
AI-Powered Caption Generation:
With Supermeme.ai, you can leverage the power of GPT-3, an advanced language model, to generate meme-appropriate captions automatically.
This makes sure your memes have witty and relevant text that complements the visuals perfectly.
Custom Watermarking:
Easily brand your memes with your own custom watermark directly within Supermeme.ai, eliminating the need for additional image editing tools.
This allows you to add a personal touch and protect your creations.
Meme APIs:
It goes a step further by offering meme APIs, enabling you to build your own meme bot or application using just text input.
This feature provides flexibility and empowers developers to integrate meme generation seamlessly into their projects.
How to use
Select a template: Choose from a wide range of pre-designed images with captions or text.
Add your content: Customize the meme by adding your own text, images, or videos. Get creative!
Customize fonts and colours: Make your meme unique by adjusting the font style and text colour to your preference.
Save and share: Save your meme to your device or share it directly on social media platforms. Some generators even support GIF or video downloads.
Pros & Cons
✓ Supermeme.ai is designed with a user-friendly interface, ensuring a hassle-free experience. Each feature is clearly explained using simple language, making it easy to navigate.
✓ You have the freedom to create memes related to various business themes, including startup, marketing, programming, and sales. 
✓ What's more, it supports over 110 languages, allowing you to express yourself in your preferred language. 
✓ It also has a very useful Meme Marketing Guide and the target audience is social media influencers and marketing experts.  
✓ To get started, Supermeme.ai offers a free trial, giving you the opportunity to explore its features and capabilities before committing.
¿ One thing to note is that while Supermeme.ai allows direct downloads of your memes, it doesn't provide direct sharing to social media platforms. You can save the memes to your device and then manually share them on social media if desired.
Pricing
Enjoy flexible monthly pricing options for you and your team.
All plans come with a free trial, allowing you to generate 20 AI memes without any need for credit card information.
1 Credit = 8 AI Memes (Text-to-meme)
Solo: For your personal brand – $9.99/month, Billed annually or monthly
Startup: For small marketing teams- $24.99/month, Billed annually ($34.99 Billed monthly)
Enterprise: For large marketing teams- $83.99/month, Billed annually ($99.99 Billed monthly)
Bottom Line 
When it comes to incorporating memes into your marketing strategy, Supermeme.ai is your go-to solution.
It empowers marketers to create captivating memes and stay at the forefront of the latest trends.
2. Imgflip:
ImgFlip is renowned for housing the most extensive collection of memes on the internet, and now its meme generator is stealing the limelight.
Dubbed 'This Meme Does Not Exist,' this official tool employs advanced deep artificial neural network technology to craft uproarious captions on various meme templates.
By leveraging the principles of neural networks, which enable software intelligence to emulate the intricate structure of the human brain, ImgFlip's AI meme generator has earned accolades for surpassing the humour capabilities of its human counterparts.
To frame it simply, it uses fancy technology called deep artificial neural networks to come up with funny captions for different meme templates. 
Neural networks are like the brains of AI software—they help it think like a human.
People think ImgFlip's AI meme generator is even better than humans at making hilarious memes.
It may feel a bit old-fashioned to some, but it's a great start.
How to use Imgflip: 
To make a meme:
Choose a template from popular ones or search through over 1 million user-uploaded templates. You can also upload your own template.
Customize your meme by adding text, images, stickers, and drawings, and adjusting spacing.
Create your meme by hitting "Generate Meme" and choose how to share or save it. You can share it on social apps, through your phone, or download it. You can also share it with Imgflip's meme communities.
To customize your meme:
Move and resize text boxes by dragging them around. On mobile devices, enable drag/drop in the More Options section.
Change the font colour and outline colour.
Customize the font for each text box using the gear icon. You can use all fonts installed on your device, including default fonts and over 1,300 free fonts.
Add popular or custom stickers and images, adjust opacity and size, and copy/paste images quickly.
Rotate, flip, and crop the templates you upload.
Draw, outline, or scribble on your meme using the panel above the meme preview image.
create "meme chains" by stacking multiple images vertically.
Apply special image effects like posterising, jpeg artefacts, blur, sharpen, and colour filters such as grayscale, sepia, invert, and brightness.
Remove the imgflip.com watermark and ads, and enhance your image creation abilities with Imgflip Pro or Imgflip Pro Basic.
Key Features
Versatile Usage: The Meme Generator is not limited to just memes. You can utilize it for various purposes, such as designing posters, banners, advertisements, and other custom graphics, by uploading custom images and using the available customizations.
Animated and Video Memes: You have the option to create animated or video memes using the Meme Generator. You can search for animated meme templates, like the popular "party parrot," or explore all the GIF Templates. Additionally, you can upload and save your own animated template using the GIF Maker tool.
Wacky AI Meme Writing: If you're looking for an AI that can generate memes for you this wacky AI is capable of writing memes. You can find it at imgflip.com/ai-meme (please note that it may contain vulgar content).
Pricing 
Imgflip offers both free and paid subscription options.
The free version allows users to create memes and use the basic features of the Meme Generator. 
However, it may include watermarks and limited access to advanced customization options.
Imgflip Pro is the paid subscription plan, which provides additional benefits such as ad-free usage, removal of the Imgflip watermark, priority support, and access to exclusive features.
Imgflip Pro Basic is a more affordable version of the Pro plan with some limitations on certain features.
It's subscription-based and £9.95 per month. You can select yearly to save 23%  
Bottom Line 
ImgFlip stands as a true AI meme generator, catering to users seeking to effortlessly create AI-generated memes that have the potential to go viral.
It offers an ideal solution for those who prefer to bypass the learning curve of creative meme-making and instead rely on the power of artificial intelligence to generate compelling and potentially popular memes.
3. Kapwing:
Kapwing is an online multimedia platform that provides a variety of tools for creating, editing, and sharing visual content such as images, videos, GIFs, and memes.
It offers a range of features and templates to assist users in editing and enhancing their content in a user-friendly and accessible manner.
Key Features
Start creating instantly with a vast library of templates and copyright-free videos, images, music, and GIFs. Simply paste a link to repurpose content from the internet.
Kapwing is completely free to get started. Upload your video and begin editing. Enhance your editing process with our robust online tools.
Automatically add subtitles and translate videos using our AI-powered Subtitler tool. Caption your videos in seconds, ensuring inclusivity for all viewers.
Kapwing is cloud-based, giving you access to your videos from anywhere in the world. Use it on any device and seamlessly work on your content.
They prioritize quality and trust, which is why we don't serve ads or engage in spamming practices. Your information is secure and will never be sold.
How to use 
Open a blank project and look for the option "Create a meme about…" at the bottom of your screen. Enter the desired topic or text prompt to kickstart the process.
Choose from AI-generated memes
Browse through a selection of memes generated by the AI. Select the one that best suits your preferences and resonates with your intended message.
Make any necessary modifications to the meme. You can fill in any blanks, save it as a meme template for future use, or customize it according to your liking.
Once you're satisfied, export the meme and download it as a file.
Pros & Cons 
While the Kapwing meme generator is user-friendly for creating basic memes, it also packs a punch with its Studio feature, allowing you to craft video memes, GIF memes, and various other content formats.
Users can easily customize memes by adding their own text, images, or videos to personalize the content.
The free version of Kapwing may include watermarked exports, which can be removed by upgrading to a paid plan.
It is also only a web-based app, it operates entirely through a web browser
Pricing 
FREE: Ideal for beginners and content enthusiasts
PRO: Most popular plan for increased productivity, $16 per member, per month
ENTERPRISE: Tailored for larger teams with advanced controls and support
Bottom Line 
When it comes to creating memes that capture attention, Kapwing is the go-to AI generator.
With its vast collection of templates, you'll never run out of inspiration for your next hilarious creation. 
Plus, the convenience of being web-based means you can access and edit your memes from anywhere with an internet connection. Your creations are securely stored in the cloud, so you can easily share them with others or make edits whenever inspiration strikes.
I recommend you give it a try.
4.Makememe.ai:
Josh Bickett, the founder of Makememe.ai, is on a mission to make sharing memes a breeze.
Their about page sums it up in one simple sentence:' We are making it easier for anyone to communicate through memes.' 
He came up with a super cool tool that uses artificial intelligence (AI) and the OpenAI GPT-3 framework to generate memes.
GPT-3 is a fancy technology that helps the software create text that humans can understand.
Now, Makememe.ai may not have all the fancy features of its high-priced competitors, but it does something really cool.
It can take a simple description and use AI to make brand-new memes for you to enjoy.
It's a clever way of showing how AI can spice up the meme game and make things more fun.
How to use
Simply enter your meme description in the provided textbox.
Makememe.ai offers helpful tutorials to walk you through the process of crafting comparison memes.
Once you're ready, just click on "Make Meme."
The generator will cleverly select a suitable template and generate fitting captions automatically.
To save your masterpiece, right-click on the meme and choose "Save Image."
Key Features
Using NLP and AI systems, they can create memes with just a few sentences from users.
It has the ability to create memes based on a single word or a full sentence.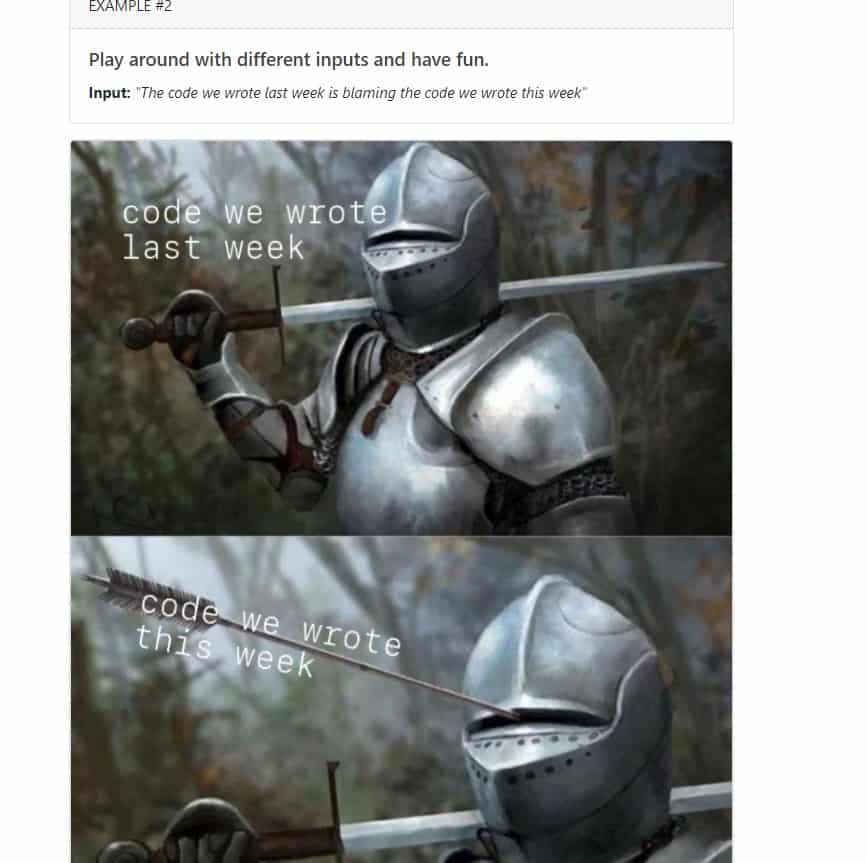 The best part is that it's completely free, although signing up is required before diving into meme creation.
On the other side, they hope you can find humour in both the AI's failed attempts and successful memes.
Makeameme.ai is constantly striving to enhance its capabilities. Your laughter and feedback are vital as they continue to grow and improve.
Pricing
You can use Makememe.ai for free, but there is a restriction for each registered user, allowing only 15 memes per day.
Bottom Line 
While Makememe.ai may not have the extensive features, diverse templates, or advanced intelligence found in AI generators like ImgFlip and Supermeme, it offers a glimpse into how AI can influence and inspire the culture of meme-sharing.
Although it falls short in comparison, Makememe.ai serves as a starting point to explore the potential impact of AI in the world of memes.
5.Predis.ai:
Predis.ai's AI Meme Generator is a user-friendly and free tool that simplifies the process of creating memes.
With Predis.ai, you don't have to manually select templates or come up with text ideas.
The AI meme maker takes your input, understands its meaning and emotions, identifies suitable meme templates, generates captions, and seamlessly incorporates them into the meme. 
This eliminates the need for manual editing and streamlines the meme creation process.
How to use
Simply enter your text idea in the input box, providing specific details about the scenario or use case for optimal results. 
Once the AI generates a meme based on your input, you can easily download it with just a single click.
The Pledge:
Start with an idea and present it to our AI.
Choose from the pre-loaded inputs or unleash your creativity by writing your own text input.
The Turn:
Watch as the AI transforms your simple idea into something extraordinary.
Let the AI-generated option select the best template based on your input, or explore our list of available memes to choose your favourite.
The Prestige:
With a single click on "Generate," witness the AI bring your idea to life in the form of a meme within seconds.
Key Features
Extensive template collection: Discover high-quality meme templates curated with care.
Authentic meme generation: Experience true meme generation powered by AI, not just image editing.
AI-driven captions: Leverage the power of GPT to generate witty and relevant captions.
Social Media Sharing: Predis.ai allows you to effortlessly share your masterpiece across all your social media channels at once.
Pricing
AI meme generator is free to use!
To gain the benefits of all the features and gain the most out of the platform, for the price of one, you'll gain access to AI content creation, video and image generation, content scheduling, competitive analysis, and hashtag research.
The platform is trusted and embraced by over 300,000 users across more than 80 countries.
Here are the pricing options for Predis.ai:
Free Plan:
$0 per month / 1 Brand
15 AI-Generated Posts per month
10 Competitor Analysis Runs per month
Publish to Predis.ai Watermark
30 Posts Free! No credit card is required.
Solo Plan: $29 per month
Billed Monthly
1 Brand
120 AI-Generated Posts per month
60 Competitor Analysis Runs per month
Publish to 2 Team Members
Chat by Predis.ai
25,000 Words per month
30 Posts Free! No credit card is required.
Starter Plan: $59 per month
Billed Monthly
2 Brands
Unlimited AI-Generated Posts
Unlimited Competitor Analysis Runs
Publish to 2 Team Members
Chat by Predis.ai
60,000 Words per month
30 Posts Free! No credit card is required.
Agency Plan: $139 per month – Billed Monthly
5+ Brands
Unlimited AI-Generated Posts
Unlimited Competitor Analysis Runs
Publish to 6 Team Members
Chat by Predis.ai
250,000 Words per month
Additional brands: $27 per month
30 Posts Free! No credit card is required.
Bottom Line
The Predis.ai meme generator is accessible and user-friendly, making it suitable for both beginners and experienced meme makers.
The intuitive interface and drag-and-drop editor make the process seamless and enjoyable.
Additionally, Predis.ai stands out with its instant content creation feature.
For businesses, having a post scheduler is invaluable as it helps save precious time.
I highly advise you to give it a try.
What is an AI meme Generator? 
An AI meme generator is an incredible tool that brings together the power of artificial intelligence and your creativity to produce hilarious and engaging memes effortlessly.
Did you know that AI meme generators have become immensely popular?
According to recent statistics, there are over 20 AI meme generator platforms available, catering to a wide range of users, from casual meme enthusiasts to professional content creators.
These platforms offer a vast collection of meme templates, ensuring you'll never run out of inspiration.
Creating memes with AI has never been easier.
With simple text inputs and user-friendly interfaces, you can generate memes in minutes, even if you don't have any design skills.
It's like having your very own meme-making assistant by your side.
Not only are AI meme generators easy to use, but they also produce high-quality memes.
With sophisticated algorithms and image recognition capabilities, these tools ensure that your memes are visually appealing and share-worthy.
Imagine the satisfaction of seeing your creations go viral and gaining recognition on social media platforms.
One of the great advantages of AI meme generators is their versatility. 
You can customize existing meme templates or even generate completely unique memes that suit your personal or professional brand. The possibilities are endless!
Plus, with the ability to generate memes in different languages, you can reach a broader audience and connect with internet users worldwide.
Another exciting aspect of AI meme generators is their impact on social media marketing.
Memes have proven to be a powerful marketing tool, attracting attention, generating engagement, and increasing brand awareness.
By incorporating humour and creativity into your marketing campaigns through AI-generated memes, you can create a genuine connection with your audience and stand out in the digital landscape.
Frequently Asked Questions
Are AI meme generators free to use?
Many AI meme generators offer free access to their platforms, allowing users to create memes without any cost involved.
These AI meme generators provide a wide range of features and functionalities, including a vast library of meme templates and easy-to-use editing tools.

With a free AI meme generator and meme creator, you can easily create AI memes that are sure to entertain.Create AI memes and share them with the world and engage. 
Can AI meme generators create custom memes?
Absolutely! AI meme generators are capable of creating custom memes tailored to your preferences and imagination.
These advanced tools allow you to go beyond the existing meme templates and unleash your creativity by generating unique and personalized memes.
With an AI meme generator, you can input your own text, captions, or phrases, and the system will intelligently incorporate them into the meme design.
This customization feature enables you to create memes that reflect your sense of humour, convey specific messages, or align with your personal style.
The AI technology behind these meme generators ensures that the generated memes are of high quality and visually appealing.
It leverages machine learning algorithms to understand the context, tone, and style of the meme, resulting in professional-looking and engaging creations.
Do AI meme generators infringe copyright laws?
AI meme generators themselves do not infringe copyright laws, as they are tools that provide users with the ability to create and customize memes.
However, the responsibility for copyright compliance lies with the users.
When using an AI meme generator, it's important to consider the source of the content you include in your memes.
If you use copyrighted images, text, or other protected content without permission or proper attribution, it may potentially infringe on copyright laws.
To avoid copyright issues, it is recommended to use content that is either in the public domain or falls under fair use guidelines.
Additionally, you can create your own original content or use royalty-free images and open-source materials to ensure that you are not violating copyright laws.
It's always a good practice to respect intellectual property rights and to be mindful of the content you use in your memes.
When in doubt, it's best to seek legal advice or obtain proper permissions from the copyright owner to ensure compliance with copyright laws.
What are the uses of memes?
Memes have become a pervasive and influential form of communication on the internet. Here are some common uses of memes:
Humour and Entertainment: Memes are primarily created and shared for their comedic value. They serve as a lighthearted and often relatable way to bring laughter and amusement to people.
Social Commentary: Memes can be used as a form of social commentary, addressing various cultural, political, or societal issues. They can convey opinions, critique, or highlight absurdities in a concise and accessible manner.
Viral Trends and Pop Culture References: Memes often reflect current trends, events, and popular culture phenomena. They capture the essence of a moment or a shared experience, and their widespread sharing contributes to the viral nature of these trends.
Communication and Expression: Memes provide a unique way to express emotions, reactions, and ideas. They allow people to convey complex thoughts or experiences in a simple, visual format, making them relatable and easily shareable.
Internet Community Building: Memes have become an integral part of Internet culture and online communities. They serve as inside jokes and references that create a sense of belonging and foster a shared understanding among online users.
Marketing and Advertising: Memes are increasingly used in marketing and advertising campaigns to engage with younger audiences and create brand awareness. By leveraging popular memes, companies aim to connect with consumers in a more casual and relatable manner.
Spread of Information and News: Memes can be used to disseminate information, news, or important messages.
They have the potential to reach a wide audience quickly, making them effective tools for raising awareness or conveying important messages in a digestible format.
It's worth noting that while memes can be humorous and light-hearted, they should be used responsibly, considering their potential impact and the context in which they are shared.
ai meme generators0/9–26
meme generators0/11–28
Wrap-up.
So, to sum it up, these AI meme generators are absolute game-changers when it comes to creating hilarious and engaging content.
They take the hassle out of meme creation and make it super easy and accessible for everyone.
You don't need to be a tech genius or a professional graphic designer to join the meme-making party.
With these AI-powered tools, you can whip up your own memes or choose from a wide range of templates, giving you endless options to express your wit and humour.
Imagine the laughter and amusement you can bring to your friends, followers, or even your own social media accounts.
You can generate funny memes that perfectly capture the mood or create memes that reflect your unique style and personality.
The AI technology behind these generators ensures that you get top-notch results with clever captions, catchy visuals, and all the elements that make memes so shareable.
Whether you're an avid meme enthusiast, a social media guru, or simply someone who loves spreading joy through humour, these AI meme generators are your go-to tools.
So go ahead and dive into the world of meme creation with these fantastic platforms.
Get ready to create memes that will have your audience ROFL-ing and begging for more.
Have a blast meme-ing away!