3 Best Local Citation Services SEO Link-Building (2023)
Here is my review of the finest local citation services, often referred to as SEO citation-building services.
In this article, I'll introduce you to leading SEO companies that specialize in local citation services. I'll explain what makes these services exceptional and how they can positively impact your brand, whether you operate online or have a physical presence.
By reading this article, you'll gain insights into the strengths and weaknesses of these companies, empowering you to make informed decisions when considering local SEO services.
What are the Best Local Citation Services?
If you're looking to boost your local SEO and create citations for your business, these services are the ones to go for.
Let's dive into the best local citation services below:
The budget-friendly option for listing your business.

Key Features:
Robust local citation-building solutions.
Establishment of authoritative business listings.
Opt for monthly citation building if needed.
Tailored a la carte services to suit your preferences.
Transparent reporting and ongoing updates.
Advantages:
Elevates both local and organic search rankings effectively.
Ensures unwavering consistency in citation-building outcomes.
Flexibility to customize services according to your unique business demands.
Stay in the loop with regular updates on your local SEO campaign's progress.
Drawbacks:
The comprehensive citation services might entail a slightly greater investment compared to basic alternatives.
Different businesses may experience varying timelines for noticeable ranking improvements.
Authority Builders Overview:
Authority Builders offers a one-stop solution for your local SEO needs.
Their services are designed for businesses aiming to boost their presence in local search results, helping them connect with their local audience effectively. What makes Authority Builders special is their commitment to delivering consistent, reliable results and their deep understanding of local SEO.
But there's more to Authority Builders than meets the eye. They don't just create citations; they tailor solutions to your unique local SEO needs.
They mention that most clients usually see results in 4-6 weeks, although it can vary based on factors like your industry and competition.
Regarding pricing, they have flexible packages, so you only pay for what you need.
Their experienced team carefully selects relevant and high-quality directories for your local niche, including top-tier websites.
What sets them apart is their open communication and manual citation process, ensuring the accuracy and credibility of each citation.
Authority Builders' Citation-Building Pricing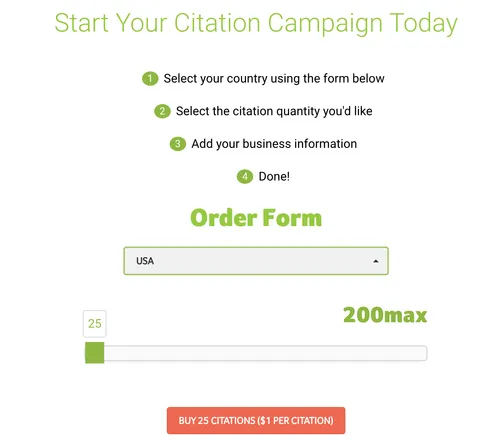 Authority Builders' local citation building service is priced at just $1 per citation. This means you can promote your business in local search results at a very reasonable cost.
Button
The top pick in every aspect.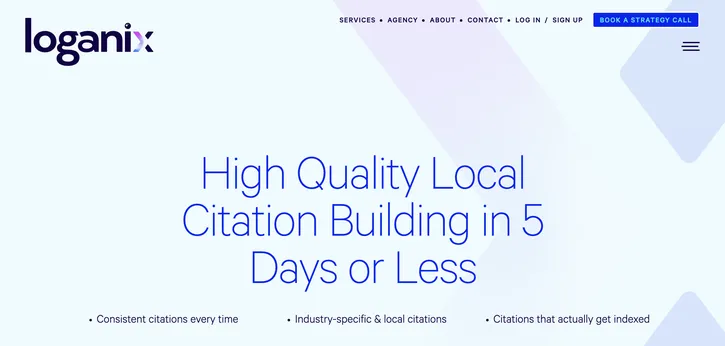 Key Highlights:
Exceptional quality in local citation building.
Reliable, consistent outcomes with every order.
Personalized approach to cater to your specific needs.
A range of services, including citation audits, building, and cleanup.
Advanced and responsive customer support systems.
All-encompassing packages covering local business directories, social media, as well as photo and video citations.
Advantages:
Accelerates search engine discovery.
Enhances both local and organic link signals.
Customized to meet your unique business requirements, considering your location and competition.
Accessible, responsive, and dedicated customer support.
Drawbacks:
May stretch the budget of smaller businesses.
A relatively quick 5-day turnaround time might not be suitable for larger, more intricate projects.
Overview of Loganix's SEO Citation Building Service
Loganix presents an effective solution for businesses eager to enhance their local search visibility. Their citation-building service is meticulously designed for those seeking to bolster both local and organic link signals.
Loganix brings together comprehensive research and industry knowledge to craft citation-building strategies that deliver consistent results, playing a pivotal role in successful local search campaigns.
At the heart of Loganix's approach is its commitment to providing a holistic solution for local citation needs. Their citation service not only expedites search engine discovery for new businesses but also rejuvenates established ones. Loganix pays close attention to the finer details – your location, niche, and competition – and tailors a strategy that aligns perfectly with your objectives.
Recognizing that each business is unique, Loganix adopts a personalized approach to its citation-building process. They invest significant time in researching your specific case before developing a tailored plan. This meticulous approach ensures that your products and services shine brightly in the crowded digital landscape.
For instance, Powered by Search, a B2B SaaS marketing agency relies on Loganix's services to supercharge their clients' citation-building endeavours. Thanks to Loganix's ability to manually create new citations daily, agencies, like Powered by Search, entrust them to fuel their business growth.
Loganix's Citation-Building Pricing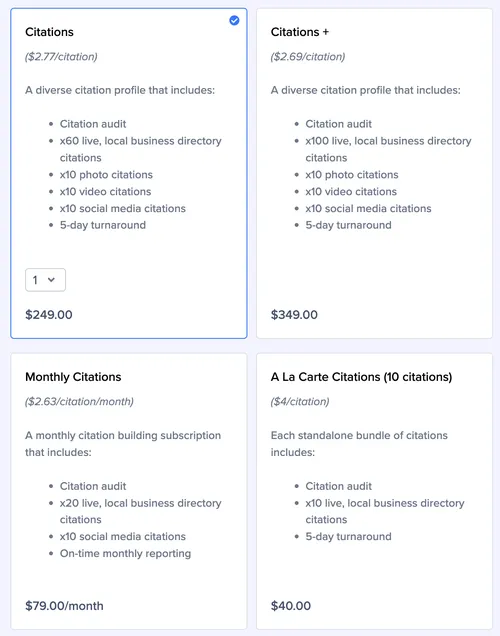 Every citation-building campaign kicks off with a thorough citation audit, a critical step in pinpointing the areas that require attention. Following this assessment, Loganix offers a range of citation packages, each tailored to meet specific needs:
1. Citations Package ($249): Ideal for those seeking a diverse toolkit to enhance their local SEO profile. This comprehensive package includes a business directory, photo, video, and social citations. You'll benefit from 60 placements in business directories, along with 10 each of photo citations, video citations, and social platform appearances.
2.Citations+ Package ($349): Designed for businesses with multiple locations, the Citations+ package takes the Citations package up a notch. It offers an additional 40 live local business directory citations, totalling 100 business directory citations. This package also includes 10 photo citations, 10 video citations, and 10 social citations.
3. Monthly Citations Subscription ($79/mo): To maintain a strong presence in search results and continuously boost local and organic link signals, Loganix offers a monthly citations subscription. Each month, you'll receive 20 business directory citations and 10 social citations.
4. A La Carte Citations Bundle ($40): Whether you're dipping your toes into local SEO, addressing minor gaps, or simply need a tailored solution, the A La Carte Citations Bundle is the answer. Each bundle includes 10 placements in business directories, customized to your specific business requirements.
Additionally, Loganix offers a citation audit at an affordable $7, providing results within 3 days. If you're looking for citation cleanup across multiple locations, their manual outreach occurs three times over six weeks to ensure an effective cleanup process.
Elevate your business with Loganix's citation-building service. Their commitment to understanding your unique business needs, combined with their expertise, paves the way for improved local search rankings.
BUTTON
The leading company for ensuring NAP accuracy in local citations.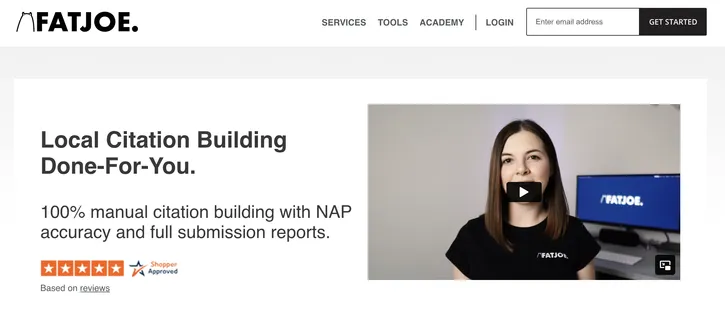 Key Features:
Local citation building and meticulous cleanup.
Pinpointing industry-specific directories for targeted impact.
Inclusion of vital NAP (Name, Address, Phone number) business details.
A highly personalized approach tailored to your unique needs.
Comprehensive, detailed reporting for transparency and insights.
Advantages:
Amplified visibility for local businesses, ensuring they stand out.
A refined and consistent online presence that enhances accuracy.
A surge in traffic courtesy of top-notch directory backlinks.
Precious time is saved by outsourcing labour-intensive tasks.
Drawbacks: :
Patience may be required for measurable results, depending on your business.
While quality directories are a priority, comprehensive coverage of all possible directories isn't guaranteed.
Overview of FATJOE's Citation-Building Services:
FATJOE's local citation-building service is the go-to solution for businesses aiming to bolster their local SEO strategy.
This platform is tailored to businesses striving to connect with a local audience through personalized citation-building and cleanup services.
What sets FATJOE apart is its comprehensive approach, ensuring your business secures a prominent place on industry-specific top directories.
The advantages of FATJOE's local citation building extend beyond mere listings in local directories or Google My Business.
It's all about supercharging your local SEO and visibility, driving increased traffic by generating safe, high-quality local SEO backlinks from reputable directories.
This is achieved through the expertise of their team, who meticulously maintain the consistency of your business information, including name, address, and phone number (NAP), across all directories.
FATJOE's citation cleanup service rectifies any discrepancies that could otherwise harm your local SEO efforts.
But FATJOE doesn't stop there.
Each action is carefully documented to keep you informed every step of the way. The local listing cleanup typically takes 6 to 12 weeks to finalize, and they offer continuous monitoring to detect and address future inconsistencies.
This ongoing optimization saves you the hassle of monitoring these changes yourself, giving you more time to concentrate on growing your business.
What truly distinguishes FATJOE is its personalized approach. In contrast to other citation builders that often rely on automated, scalable methods, FATJOE takes pride in its ability to cater to the unique needs and industries of each business.
Their holistic approach to local citation building and cleanup ensures your business is positioned accurately and easily discoverable by potential clients.
FATJOE Citation-Building Pricing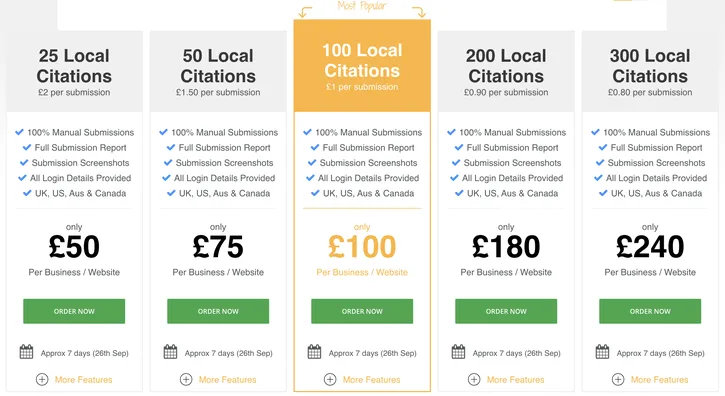 FATJOE offers cost-effective business directory submissions in English-speaking nations such as the UK, the US, Australia, and Canada.
For as low as £0.80 per submission, you can have your business featured on top online local business directories, paving the way for enhanced local visibility and brand recognition.
BUTTON
What Are Local Citations?
Local citations are basically any time your business's name, address, and phone number (often called NAP) are mentioned online.
These mentions can pop up in various places, such as local business directories like Yelp, Scoot, and HotFrog, on websites, in apps, and on social media. Local citations are important because they help people find local businesses and can have a big impact on how well a business shows up in local search results.
Many business owners and SEO experts believe that local citations are a key factor in how well a business does in local online searches. That's why they're an important part of a business's strategy to get noticed locally.
How Do Local Citation Services Operate?
Local citation services follow a structured process to expand your business's online presence and bolster your local SEO efforts. Unlike relying on automated local citation software, here's a breakdown of how professional citation-building services typically work:
Step 1: Hands-On Submission
The process starts with a thorough manual submission of your business information. Once your order is received, the local citation team springs into action. They carefully review the details you provide about your business, laying the foundation for a strong online presence.
Once everything is in order, they get to work by populating business directories in your target area with your information. Each entry is meticulously completed, with a focus on enhancing your local visibility and expanding your online reach. Their aim is to complete most submissions promptly, and they keep you informed at every stage.
Step 2: Duplication Prevention
Attention to detail becomes crucial in this phase. SEO citation-building services conduct thorough checks of existing citations to avoid any duplication.
For example, if your old listing doesn't match the new information you've submitted, they won't simply update it. Instead, they'll create a new citation with precision to ensure your business's name, address, and phone number (NAP data) are accurate across all listings. This level of thoroughness contributes to improving your local search engine rankings.
Step 3: Comprehensive Submission Report
Local citation services provide you with full access to review each citation they've generated. You can easily access this information in your dashboard's submission report. Typically, it's a white-label, unbranded report that includes live listings and screenshots of the submissions.
It's like having an exclusive backstage pass to witness your local citation building in action. You can observe all the dedicated work and meticulous attention that goes into enhancing your local online presence.
Why Are Local Citation Building Services So Important?
Local citation-building services aren't just a good idea; they're absolutely vital, especially if you want to supercharge your local search engine optimization and become a standout presence in your community. Here's why these services are incredibly valuable:
Think of search engines like Google and Bing as modern-day map-makers in the digital realm. Building local citations helps them chart the online landscape and determine which businesses are reliable, trustworthy, and hold a strong position within a local area. Much like well-placed signposts, this has a profound impact on your local SEO, significantly boosting your online visibility and rankings.
Now, consider the process of manual citation building.
It might feel like navigating a complex maze every time. This is precisely where local citation-building services come to your rescue. They streamline the process, handling submissions with efficiency and freeing up your time to focus on managing your business.
But why should you prioritize building local citations, you might ask?
Well, it's a critical factor that Google takes into account when determining search result rankings. It's an integral component that should be seamlessly woven into your overall SEO strategy to secure a prominent position in those coveted top search results.
Here's another important aspect to consider. Accurate citations serve as more than just a digital footprint; they are your consistent online identity. Customers rely on this information to find and connect with you. Inconsistent data can confuse them, and bewildered customers are less likely to engage.
For instance, take a look at Loganix, which showcases testimonials highlighting the effectiveness of link-building for various brands they've collaborated with. These testimonials underscore the power of building links to expand your online presence.
Having a local citation-building service by your side is akin to having a dependable co-pilot. They handle all the navigation, ensuring precision, preventing duplicate entries, and saving you valuable time—a must-have tool for any local business striving to grow and uphold its online presence.
In summary, investing in local citation-building services could be the game-changer your business's SEO efforts have been searching for. The result? Elevated visibility and credibility within your local market—something every business strives to achieve.
The Top Local Citation Services for Local SEO: In Conclusion
When it comes to reaching a local audience, the best local citation services act as the secret sauce that can propel you forward significantly. These citation services are indispensable tools for mastering the art of local SEO.
Among the standout services in this arena, Loganix's citation-building service shines the brightest. Their commitment to personalized service and their track record of delivering comprehensive solutions position them as leaders in this field. While the cost may appear relatively higher, especially for smaller businesses in comparison to other services, the investment is truly justified when you weigh it against the substantial value they bring to your visibility.
Taking the leap and investing in a local citation service could be the game-changer your business needs to make substantial progress in local SEO. The enhancement in visibility and credibility, coupled with a surge in traffic, can collectively tip the scales of success in your favour.
So, my advice is to toss aside any hesitations and seize the opportunity to harness the potential of local citation services. Witness firsthand how they can elevate your local SEO strategies to new heights, paving the way for greater success.
Good Luck!