5 Effective Social Media Lead Generation Strategies: [ Proven Ways ]
Have you ever spent hours creating the perfect social media post only to receive little to no engagement?
I sympathize with the frustration of putting a lot of work into social media marketing without getting any results.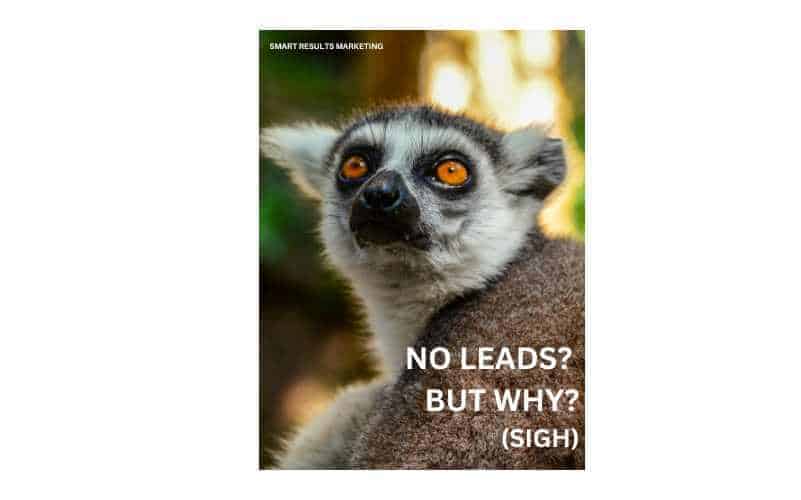 But the bright side is that social media lead generation doesn't have to be excessively complex or difficult.
Using a few effective strategies, you can transform your social media activity into a powerful tool for generating leads.
In this blog post, I'm excited to share five simple and effective social media lead-generation strategies I've also used to drive results for my clients and generate sales leads.
So, grab a cup of coffee and let us explore these strategies together!
What is Social Media Lead Generation?
Social Media Lead Generation
It is about finding and attracting potential customers or leads through social media.
Introducing yourself to potential customers can feel like walking into a room full of strangers and finding those who may be interested in your offerings.
To turn your audience into paying customers, create content that directly speaks to them, engage with them, and offer something valuable to build trust and credibility.
" HubSpot reports that companies that employ social media for lead generation experience a 24% increase in revenue in comparison to those that don't. "
"Additionally, research by Demand Metric shows that content marketing, a key component of Social Media Lead Generation, generates three times as many leads as traditional outbound marketing while costing 62% less."
These stats indicate that Social Media Lead Generation can be a highly effective and cost-efficient way to generate leads and increase business revenue.
Top Social Media Lead Generation Strategy (Examples Provided)
1. Use Interactive Content to Engage Your Audience
To encourage your social media followers to engage with your brand, you can consider making interactive content, such as quizzes, polls, and surveys.
This can be a fun and effective approach. Use Interactive Content to Engage Your Audience
For example, a fashion retailer can create a quiz titled "What's Your Style Personality?"
and ask followers to answer questions about their fashion preferences to receive a personalized style recommendation from the brand.
This type of interactive content engages followers and provides useful insights about their preferences and behaviour.
Useful Design Tool Suggestion:
Canva is a great tool for designing visually appealing interactive content, and it's free to use with a Pro option.
Buzzfeed creates fun quizzes that their audience loves to take, and they use this engagement to gather data and generate leads for their advertisers.
Here's an example of an interactive quiz that BuzzFeed created that went viral:
Buzzfeed Example:
Title: "Which Disney Princess Are You?"
Description: This quiz asked users questions to determine which Disney Princess they liked most.
It utilized entertaining and interesting questions such as "How do you like to spend a free day?"
and "If you could choose any animal as a pet, which one would you select?"
to identify the user's character and pair them up with a Disney Princess.
The quiz included fun animations and vibrant images to make the experience even more enjoyable.
The "Which Disney Princess Are You?" quiz by BuzzFeed gained a lot of attention on social media and was one of their most well-received articles.
The quiz engaged users, provided a fun experience, and helped promote Disney movies and merchandise.
There are many different types of interactive content available that you can use to engage your audience on social media, and this is just one example.
To make quizzes, polls, surveys, or other interactive content types effective;
it's crucial to make them enjoyable, captivating, and related to your audience's preferences.
2. Offer Exclusive Promotions or Discounts
Offering unique deals or price reductions on your social media channels can entice your followers to purchase from you.
For example, a restaurant can offer a special discount code to their social media followers that can only be redeemed when ordering online.
This type of exclusive offer makes followers feel valued and can help drive more business to your company.
Starbucks offers exclusive discounts to their social media followers through their Starbucks Rewards program.
Here's how they do it:
Starbucks Rewards is a program that offers points to customers for every purchase they make at Starbucks as part of a loyalty program.
Customers can then redeem these points for free drinks, food items, and other perks.
In addition, members can receive exclusive promotions and discounts through the program's social media channels.
For example, Starbucks often promotes its "Happy Hour" events on social media, which offer half-price drinks to Starbucks Rewards members during a specific period.
To be eligible for the promotion, you need to have enrolled in the program and follow Starbucks on social media.
This creates a feeling of exclusivity and encourages more customers to join the program and follow Starbucks on social media.
Additionally, Starbucks sometimes offers limited-time promotions that are only available to their social media followers.
For example, they might offer a special drink or food item that is only available to customers who show the promotion on their phones at the register.
Starbucks is motivating its customers to stay informed about the latest promotions and discounts by following its social media pages and actively participating in its content.
Offering exclusive promotions and discounts to social media followers is a great way to generate leads and increase sales.
You can encourage repeat business and create a sense of exclusivity by offering incentives to customers who follow your brand on social media and sign up for your loyalty program.
To support this strategy, various tools can help you manage your loyalty program, track customer purchases, and measure the success of your social media campaigns.
Some popular tools include Belly, Punchcard, and Perkville.
3. Leverage User-Generated Content
One effective method to display your brand and gain the trust of your social media followers is to share content that they have generated.
For example, a travel company can share user-generated photos and stories from customers who have used their services, providing social proof that can effectively drive leads.
To generate more user-generated content for your brand, you can encourage users to share their experiences by creating a branded hashtag.
Useful Tool:
Later can help you curate and schedule user-generated content to share on your social media platforms.
Airbnb shares user-generated photos and stories of hosts and guests to showcase their unique experiences.
Airbnb is a website that links people looking for a place to stay with homeowners renting out their homes or apartments.
One of their key strategies for generating leads is leveraging UGC to showcase their platform's unique experiences.
Here's how they do it:
Airbnb suggests hosts and guests post their experiences on social media with hashtags such as #Airbnb and #AirbnbExperience.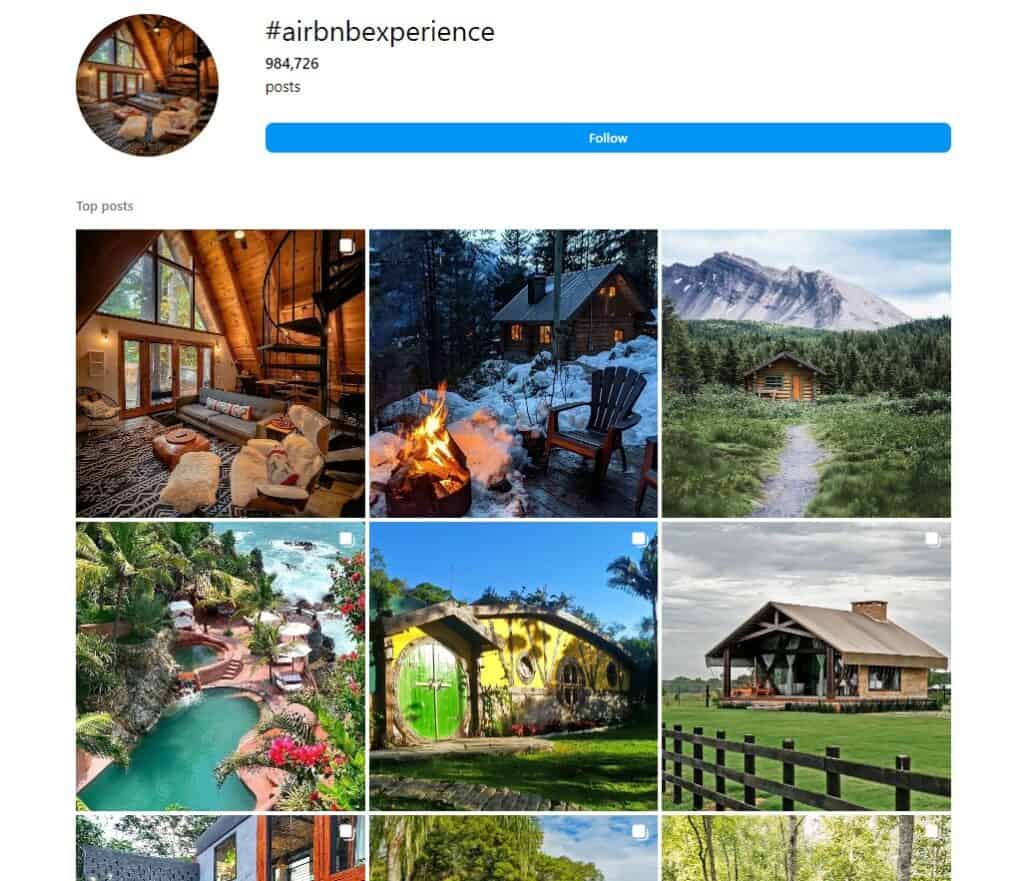 After selecting the finest material, they distribute it through their personal social media profiles, website, and blog.
By showcasing the authentic and diverse experiences of their hosts and guests,
Airbnb can promote their brand in a genuine and relatable way.
They have a section called "Airbnb Magazine," which features articles and stories about travel, design, and lifestyle.
Both Airbnb staff and external contributors create the content and often feature UGC from hosts and guests.
This helps to create a sense of community and authenticity around the brand while also showcasing the unique experiences that travellers can have through Airbnb.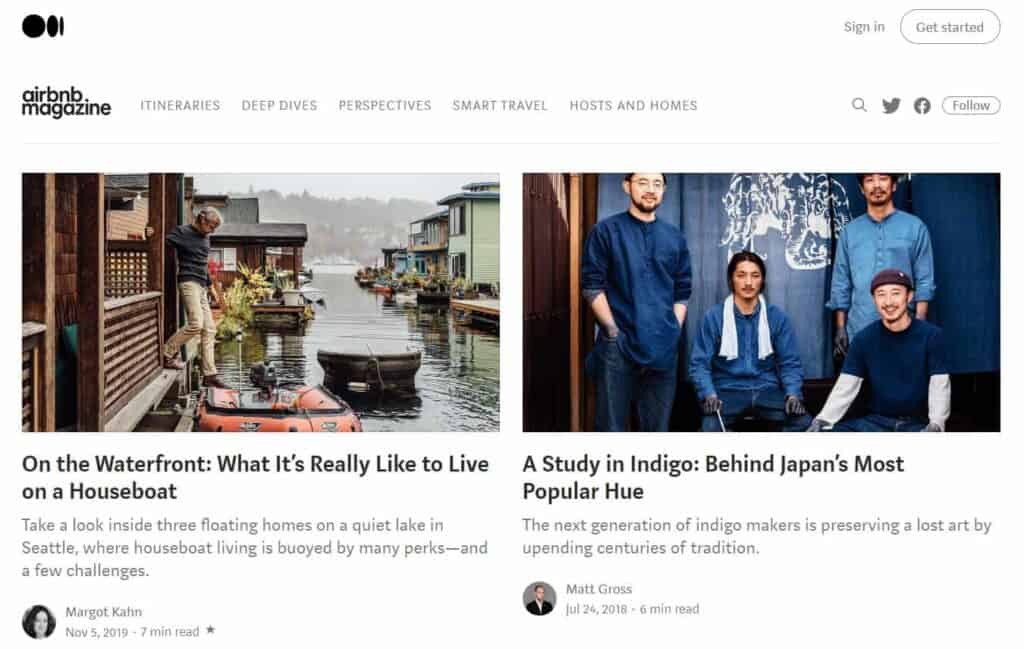 You can demonstrate the special value of your products or services sincerely and understandably by utilizing the stories and experiences of your customers.
To support this strategy, various tools can help you manage and curate UGC, such as Olapic, TINT, and Yotpo.
4. Host a Social Media Contest
Organizing a contest on social media can be an enjoyable and interactive technique to produce leads and enhance engagement.
For example, a makeup brand can host a contest asking followers to share their best makeup looks, with the chance to win a prize.
This type of contest generates leads and provides a great opportunity to showcase user-generated content on your social media platforms.
Useful Contest Tool:
ShortStack is a tool that allows you to create social media contests quickly and easily.
Sephora, a successful beauty retailer, has effectively utilized social media to interact with customers and create potential sales opportunities.
One of their most popular social media campaigns was a "15 Days of Beauty Thrills" contest hosted on their Instagram account.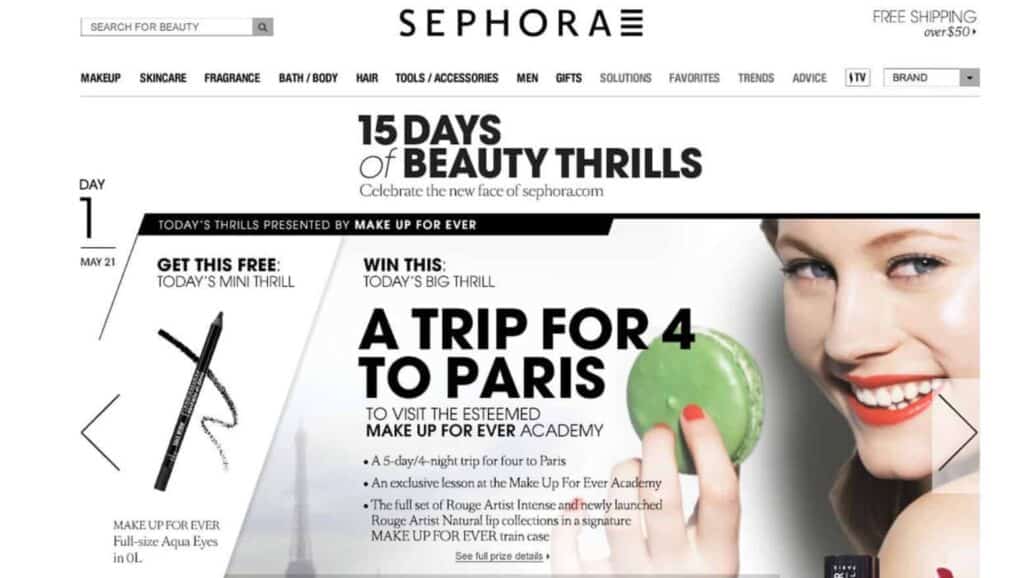 Here's how they did it:
In 2019, Sephora launched the "15 Days of Beauty Thrills" contest, a giveaway of 15 beauty products over 15 days.
Sephora posted a photo on Instagram daily featuring the product being given away with instructions on entering the contest.
Users had to follow Sephora's Instagram account, like the post, and tag a friend in the comments to enter.
Sephora also encouraged users to share the post on their Instagram stories for an extra chance to win.
The Instagram contest garnered impressive engagement, with over 27,000 comments and 16,000 shares.
Sephora generated leads by collecting email addresses from users who entered the contest, which they could use for future marketing campaigns.
Additionally, they boosted their social media audience and interaction and generated excitement about their brand.
One of the reasons the contest was so successful was because of the prizes.
– Sephora offered high-value, sought-after beauty products as prizes, encouraging users to participate.
The contest was also easy to enter, with clear instructions and a low barrier to entry.
Sephora increased its reach and engagement
by promoting user-generated content
by encouraging users to tag their friends in the comments and share the post on their Instagram stories.
Overall, Sephora's "15 Days of Beauty Thrills" social media contest is a great example of generating leads through social media by hosting a fun and engaging contest with attractive prizes.
To support this strategy, various tools can help you manage and track your social media contests, such as Woobox, Gleam, and ShortStack.
5. Use Chatbots to Qualify Leads
Using chatbots on your social media platforms is a great way to qualify leads and automatically provide personalized recommendations to your followers.
For example, a home decor company can employ a chatbot to inquire about its followers' taste in home decor and offer product recommendations based on their answers.
This type of personalized interaction not only generates leads but can also improve customer satisfaction and loyalty.
Useful Tool Suggestion:
ManyChat is a powerful tool for building and managing Facebook Messenger chatbots.
In 2020, clothing brand Levi's launched a chatbot on Facebook Messenger to generate leads and promote their new sustainability initiative.
The chatbot, called "Levi's Virtual Stylist," asked users a series of questions
about their style and preferences and then recommended sustainable clothing options based on their answers.
In addition to generating leads, the chatbot also helped to promote Levi's sustainability efforts by highlighting the eco-friendly materials and production methods used in their clothing.
The chatbot also provided users with tips on how to care for their clothes to reduce their environmental impact.
Levi's Virtual Stylist was a success, with over 80% of users saying they were satisfied with the recommendations provided by the chatbot.
Levi's was able to generate leads by collecting users' email addresses and contact information through Facebook Messenger.
They also built customer trust and loyalty by promoting their sustainability efforts and providing personalized recommendations.
This example shows that chatbots on social media can effectively generate leads and build customer relationships, especially when they are personalized and provide value beyond just sales.
Various chatbot platforms can help you build and manage your own chatbots, such as Chatfuel, Tars, and MobileMonkey.
What are the 4 L's of a lead generation strategy?
The 4 L's of a lead generation strategy are an important framework that I use to guide my approach to generating leads for my business.
The 4 L's of a lead generation stand for:
Listen
Before I can effectively generate leads, I need to listen to my target audience and understand their needs and pain points.
This involves conducting research, monitoring social media channels, and engaging in conversations with my target audience.
Leverage
If I know my target audience well, I can use that insight to produce content that is
customized, meaningful, and connects with their desires and concerns.
This might involve creating blog posts, social media content, or email campaigns that address specific pain points or offer solutions to common challenges.
Land
Landing refers to the process of capturing leads and converting them into customers.
This might involve creating lead magnets, such as e-books or webinars, that offer value to potential customers in exchange for their contact information.
Launch
Finally, I need to launch my lead generation strategy and continually test and refine my approach to ensure it delivers the desired results.
This might involve tracking metrics such as conversion rates, engagement rates, and cost per lead and adjusting my strategy accordingly.
By following the 4 L's of a lead generation strategy, I can ensure that I'm effectively reaching and engaging with my target audience and generating high-quality leads for my business.
How to do Instagram lead generation?
Optimize your bio:
Make sure your Instagram bio communicates what you do and how you can help your audience.
Also, include a call-to-action (CTA) that encourages users to click the link in your bio
or send you a direct message since it's the first thing they see when they visit your profile.
Create engaging content
To keep and gain more followers, it is necessary to produce visually attractive content that is relevant to the audience you are trying to reach.
Use high-quality images and videos, and include captions that provide value and encourage engagement.
Use hashtags effectively
Hashtags are a powerful tool for reaching new audiences on Instagram. Research relevant hashtags in your industry and include them in your posts to increase visibility. Do not overuse them.
Run targeted lead-generation ads
Instagram offers a range of ad formats, including photo ads, video ads, carousel ads, and stories ads.
Use targeting options such as location, interests, and demographics to reach your ideal audience.
Partner with influencers
Working together with influencers within your industry can assist you in reaching fresh audiences and establishing trust with your desired demographic.
Identify influencers with a strong following and engagement, and partner with them to promote your brand or product.
Offer exclusive promotions
Encourage users to follow you and engage with your brand by offering exclusive promotions or discounts.
Use Instagram stories to share time-limited offers or create a landing page with a special discount code for followers.
Use Instagram Live
Using Instagram Live effectively interacts with your audience in real-time by responding to their questions.
You can utilize it to display your products or services, conduct Q&A sessions, or provide a sneak peek into your business's behind-the-scenes.
Encourage user-generated content
To inspire users to share pictures and videos of your products or services, consider generating a branded hashtag or conducting a user-generated content (UGC) competition.
Share UGC on your Instagram feed to showcase your brand's personality and engage your followers.
Conclusion/ Key Takeaways
In conclusion, social media lead generation strategies can incredibly attract new leads and generate sales for your business.
By leveraging the power of social media marketing and engaging with social media users meaningfully, you can generate more leads and ultimately drive revenue growth.
Here are some key takeaways to keep in mind:
Lead generation efforts on social media require a well-planned and executed approach to truly see results.
Engaging and creating personalized content for your audience on social media is key to generating social media leads.
Utilizing tools like Instagram lead ads and social media contests can accelerate the lead-generation process.
Partnering with influencers or other brands in your field can expand your reach and increase lead generation by appealing to new audiences.
Tracking your performance and analyzing your audience is critical to optimizing your lead generation strategy over time.
Don't forget that the aim of lead generation on social media is not just to get more leads,
but also to cultivate closer connections with your followers and encourage valuable interaction.
By implementing these strategies, you can efficiently increase the number of leads through your social media activities and eventually boost sales for your business.