How to Make Money on Social Media – for Brands and Creators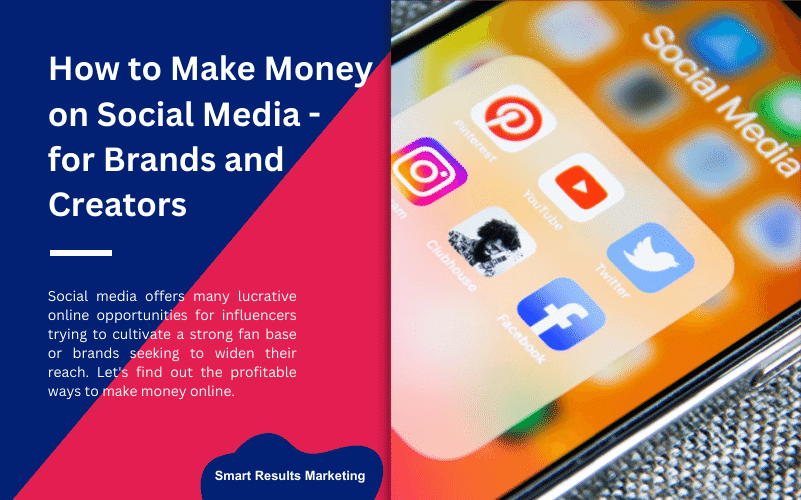 As branded content has become increasingly popular, companies and creators have discovered a novel way to capitalize on their presence across various social media channels.
Social media offers many lucrative online opportunities for influencers trying to cultivate a strong fan base or brands seeking to widen their reach.
This article will share ways how to make money on social media.
What is it to make money on Social Media?
A major benefit of monetizing social media is that it only requires access to the web and a device to create content.
Many social media monetization methods offer the potential to earn passive income, allowing individuals to make money even while they sleep.
Some ways to make money on social media include sponsored posts, affiliate marketing, selling digital products, and running advertisements.
Reasons You Need to Know about How to Make Money on Social Media Accounts – for Brands and Creators
It provides a vast potential audience of billions of active users, making it an excellent tool for reaching new customers and followers.
By employing a more targeted approach to advertising, businesses can concentrate their efforts on the very people that matter: their ideal target audience.
Generating cash via social media can be a reliable source of revenue, making it an invaluable asset for entrepreneurs and content creators.
Social media presents an inexpensive means to target a sizable audience, which renders it alluring for companies of all magnitudes.
It can bolster businesses and creators, keeping them ahead of the curve in this rapidly shifting digital world.
Profitable Ways of making money online
1. Youtube Partner Program
YouTube designs the YouTube Partner Program (YPP) to help content creators monetize their videos and make money through their YouTube channels.
To qualify for the YPP, creators must meet specific eligibility requirements, including having at least 1,000 subscribers and 4,000 watch hours in the past 12 months.
Once accepted into the program, creators can earn money through several methods, such as displaying video ads, sponsorships, and partnerships.
Creators can now gain financial rewards through YouTube Premium, a subscription program that lets viewers watch their favourite ad-free videos and access exclusive content.
Through monetization tactics, YouTube takes some of the profits while generously sharing the rest with content creators.
By joining the YPP, content creators can turn their passion for creating videos into a viable career and earn money through their YouTube channel.
2. Instagram Influencers – Sponsored Posts
Instagram influencers have established a substantial following on the platform and have the power to influence their followers' purchasing decisions.
The brand pays the influencer for their endorsement and exposure to their followers.
Sponsored posts can take many forms, including Instagram stories, posts, and reels.
To become an Instagram influencer and monetize their account, individuals must build a large, engaged following by consistently posting high-quality content.
Following some steps, you can monetize your Instagram account and create a steady income stream as an influencer.
1. Build a large and engaged following. To monetize your Instagram account, it's essential to have a large audience that is interested in the niche you are promoting.
2. Ensure to consistently post excellent quality content and use relevant hashtags to garner more attention from potential followers.
3. Additionally, interact with those who follow you frequently; this will help grow your following organically over time!
4. Switch to an Instagram business account: Unlock powerful analytics with an Instagram business account!
5. Staying informed on the performance of your followers and posts is easier than ever – use Instagram Insights.
6. Plus, you can build even more visibility for your brand by running ads across the platform.
7. Create high-quality content: To capture your audience's attention, make sure your content is visually stimulating and pertinent to your speciality.
Use captions and hashtags to provide context and improve discoverability.
8. Collaborate with brands for sponsored posts: Brands are willing to pay influencers to promote their products or services to their followers.
9. Contact brands in your niche to find potential collaborations or sign up for influencer marketing platforms.
3. Create Social Media Marketing Campaigns
Social media marketing campaigns involve creating and executing a strategy to promote a brand or product on platforms like Facebook, Instagram, and Twitter.
To create effective campaigns, research your target audience thoroughly and develop engaging content that aligns with the brand's values.
You can:
Use social media analytics tools to track and optimize campaign performance.
Charge businesses for your services based on the project's scope and length of the contract.
Earn commissions through affiliate marketing or referral programs.
You can capitalize on your knowledge and assist businesses in meeting their marketing objectives by providing social media marketing services.
To offer your social media marketing services and make money, you can:
Create a website or social media account: To draw in potential clients and make your services stand out, consider crafting a website or social media page highlighting them.
Also, remember to use keywords pertinent to your offering; this will enhance your SEO and help make it easier for people online to find you!
Use freelance platforms: Freelance platforms like Upwork, Fiverr, and Freelancer allow you to create a profile and offer social media marketing services to clients worldwide.
Network on social media: Position yourself as a preeminent expert by engaging with potential customers and displaying your knowledge on social media networks like LinkedIn, Twitter, and Instagram.
Leverage these tools to not only enhance relationships but also to develop an influential personal brand.
Attend industry events: Attend conferences and events related to social media marketing to network with potential clients and industry professionals.
4. Tiktok Creator Fund
The TikTok Creator Fund is a monetization program designed to help eligible creators earn money from their content on the platform.
To make money on TikTok through the Creator Fund, you must first create high-quality content that resonates with your audience and drives engagement.
Once you've established a following, you can apply to the Creator Fund program. To be eligible;
1. You must be 18 or older.
2. You must have a certain number of followers, although TikTok does not publicly disclose the exact number.
3. If your goal is a success, you must ensure that your videos attract tens of thousands – often even hundreds of thousands – of views.
4. Your account must be active and in good standing with TikTok, meaning you must follow the platform's community guidelines and terms of service.
You can apply to the program and await approval if you meet the eligibility criteria.
Once approved, you can start earning money based on the performance of your content through the Creator Fund.
TikTok pays creators monthly based on their performance, and various factors determine the payout rate.
It includes the creator's country and the platform's overall performance.
In addition to the Creator Fund, TikTok creators can also earn money through brand deals and sponsorships by building a following and attracting brand partnerships.
By consistently producing high-quality content, engaging with your audience, and building a following, you can monetize your content on TikTok and generate a steady income stream.
5. Virtual Events on Social Media Platforms ( Live )
Virtual events on social media platforms, such as live streaming, have become increasingly popular for connecting with audiences and monetising content.
Here are some tactics to make money through virtual events:
Select a social media platform that matches your brand identity and target audience to maximise engagement and exposure.
Plan your virtual event, such as a live Q&A, workshop, or product launch. Make sure to promote the event ahead of time to generate interest and engagement.
Establish an income-generating plan for your event, such as selling tickets, providing exclusive content or products and requesting donations.
During the live event, engage with your audience and create a sense of community. This can help increase engagement and improve your monetization efforts.
After the event, consider repurposing the content for future use or creating a follow-up event to continue engaging with your audience.
6. Earn Ad Revenue from your own website – blog, or Youtube channel
Generate income from your website, blog, or YouTube channel by utilizing advertising networks to monetize through advertisement revenue.
Here's how it works:
Take your marketing to the next level and join a reputable advertising network like Google AdSense. With this platform, you can generate revenue from ads displayed on your website, blog, or YouTube videos.
Once approved, the ad network will provide a code to embed on your site or channel.
Advertisers will bid to place their ads on your content, and you'll earn a percentage of the revenue from each click or impression.
How much you can gain depends on different elements, including the number of viewers or views your material receives, who is viewing it and what kind of ads are being shown.
Construct top-notch content that appeals to a broad and attentive audience to amplify your ad revenue.
Gain visibility and harness the power of your content by;
Tapping into social media platforms,
Enhancing your website or blog for search engine optimization,
Partnering up with other like-minded creators and influencers in the same niche!
7. Sell digital products online (ebook, online course)
Selling digital products online, such as ebooks or online courses, can effectively make money on social media.
Here's how it can work:
Produce a supreme quality digital product, whether an ebook or online course, to benefit your ideal consumers.
Establish an online presence to showcase and distribute your product – build a website or create an e-commerce platform.
Unlock the full potential of your product's reach and engagement across social media platforms like Facebook, Instagram, Twitter or LinkedIn.
By crafting compelling content for your audience, launching finely-tuned ads targeting a niche demographic, or collaborating with industry influencers.
Offer value to your audience by providing helpful content, building relationships, and providing excellent customer service.
Determine a price that accurately mirrors the worth of your product, and modify it according to customer demand and comments.
Leverage feedback and market trends to constantly enhance your product while discovering innovative ways to capitalize on social media through promotion and monetization.
Capitalizing on the expansive capabilities of social media platforms can help your digital products reach a broader audience, resulting in increased revenue.
8. Sell products with native commerce features
Selling products with native commerce features on social media platforms allows businesses to seamlessly sell products to their followers without leaving the app.
Here's how it would work on each platform:
Facebook Shop: Empower your business with a Facebook Shop and give customers an effortless, seamless experience when shopping for products.
Customers can browse, buy, and track orders from the comfort of their favourite social media app – no need to switch sites!
The platform also provides various business tools to manage orders, inventory, and customer support.
Instagram Shop: Instagram's native shopping feature allows businesses to tag their products in posts and stories, allowing followers to purchase the products directly from the app.
Businesses can also set up an Instagram Shop where customers can browse and purchase their products.
TikTok Shop: TikTok has launched a native shopping feature that allows businesses to showcase their products in a "shopping cart" tab on their profile.
Customers can browse and purchase products without leaving the app.
Pinterest Shop: Pinterest has a "Shop" tab where businesses can showcase their products, and customers can browse and purchase them without leaving the app.
Businesses can also create "Buyable Pins" that allow customers to purchase the products directly from Pinterest.
Snapchat Store: Snapchat's native commerce feature allows businesses to showcase their products in a "storefront" on their profile.
Customers can browse and purchase products without leaving the app.
It's important to set up your shop correctly, optimize your product listings, and use social media marketing tactics to drive traffic and make the most of these features.
Key Considerations for Successfully Making Money Online – Social Media Platforms
With the potential to generate revenue online through social media platforms, you should consider a few things for success. Here's how to make it happen:
Choose the right platform: Choosing the right social media platform that matches your objectives and appeals to your audience is important.
Each one offers distinct features, so select wisely for the best outcome.
Build a strong following: To make money on social media, you must have a significant following of engaged users.
Create quality content: For maximum engagement, ensure that your content is of superior quality and tailored to the interests of your followers.
Utilizing this system can attract new subscribers, keep them captivated, and ensure their loyalty remains for the long haul.
Be authentic: Users on social media platforms value authenticity, so it's important to be transparent and genuine in your interactions and content.
Understand your monetization options: Generating income through social media has never been easier.
Promote your products and services with advertising, become an affiliate, create sponsored content or sell digital/physical goods – endless choices!
Stay up-to-date with changes: Social media platforms are constantly changing, so staying informed and adapting your strategy as needed is important.
You can make money on social media platforms by considering these considerations and developing a strong strategy.
Taking it to the Next Level: How to own affiliate programs
Become an Affiliate Marketer
To own an affiliate program, you need to create a product or service that you want others to promote and sell for you.
Once you have your product or service, you can sign up with an affiliate network such as ShareASale, Commission Junction, or Amazon Associates.
These networks act as intermediaries between you and potential affiliates.
It provides tools and resources to help you manage your affiliate program.
A step-by-step guide on how to become an affiliate marketer and make money through affiliate programs:
Choose a niche: Choose a topic or niche that you find both engaging and knowledgeable.
This will help ensure your content resonates with readers while pushing products they care about.
Research affiliate networks and programs: Look for affiliate networks such as ShareASale, Commission Junction, Amazon Associates offered by businesses that fit your niche.
Check their commission rates, payment terms, and product offerings.
Sign up for affiliate networks or programs: Once you have identified the networks or programs you want to join, sign up with them.
Fill out the required forms and provide your website or blog URL if requested.
Create content: Start creating content that promotes the products or services you are affiliated with.
Connecting with potential customers on a deeper level is possible by leveraging blog posts, videos, social media content and other forms of communication.
Add affiliate links: Add your unique affiliate links to the content you create.
Make sure the links are relevant and placed strategically to attract clicks.
Drive traffic: Use SEO strategies to attract more traffic to your website or blog.
This can include keyword research, optimizing your content for search engines, and building backlinks to your site.
Track your performance: Use your affiliate networks or programs' tracking and reporting tools to monitor your performance.
This will assist you in uncovering which products and tactics are successful, as well as those that need optimization.
Optimize your campaigns: Based on your performance data, adjust your campaigns to improve your conversion rates and earnings.
This can include tweaking your content, changing the placement of your affiliate links, or testing new strategies.
Get paid: Finally, once you have earned enough commissions, you can withdraw your earnings through the payment methods offered by your affiliate networks or programs.
Following these steps can help you become a successful affiliate marketer and make money through affiliate programs.
Alternatives to earn money on social media
There are several other ways to earn money on social media, including:
Online surveys: You can earn extra income through online surveys for market research companies. These surveys typically pay a small amount per survey completed.
Online coaching or consulting: Leverage your expertise to offer to coach or consulting services on social media and impact individuals and businesses.
Freelancing: If you have a knack for writing, design, or any other discipline, harness the power of social media to find clients and monetize your skill set as a freelancer.
Crowdfunding: Social media is an effective tool that can greatly boost your crowdfunding campaign and help you bring your project or business idea to life.
Paid reviews: Similar to sponsored posts, companies may pay you to review their products or services and share your thoughts with your audience.
These are just a few ways to earn money on social media; check out our low-cost and unique business ideas article.
You can find the best methods for you and your audience by finding your niche and exploring different options.
FAQs
How can I make money from social media?
Social media has many ways to make money, including sponsored posts, affiliate marketing, selling products, influencer marketing, ad revenue, online surveys, coaching or consulting services, freelancing, crowdfunding, and renting out your property.
What is the best social media to make money online?
The best social media platform to make money online depends on your niche and audience.
Take Instagram, for instance; it is renowned for fashion, beauty and lifestyle influencers.
Alternatively, YouTube has become a hub for those who produce video content as their primary focus.
With Facebook and Twitter, monetizing your social media presence is an attainable goal.
How to make money online for beginners without paying anything?
There are many ways to make money online for beginners without paying anything, including:
Signing up for paid focus groups
Participating in crowdsourcing projects
Offering freelance services on Fiverr or Upwork.
How many followers do you need on social media to make money?
It takes diverse elements to monetize social media – such as your niche, engagement rate, and chosen strategy.
Some influencers have achieved success with just 1K followers through sponsored content.
Others may not be able to earn significant money even though they boast bigger followings.
Therefore, it is not the number of followers you possess that count but how well you leverage them for monetary gain.
Key Takeaways to Earn Money Online – (Personal Experiences)
Assembling a thriving online presence and earning a profitable income necessitates perseverance, tenacity, and commitment.
Even when you're met with roadblocks and suffer setbacks, remaining motivated and focusing on your goals is vital.
A few personal key takeaways:
Experiment with different approaches – Everyone has unique needs, so don't be discouraged if something that works for one person doesn't necessarily work for you!
Experiment with different approaches to understand your target market and deliver the most effective results.
Consistency is key – regular engagement with your audience is vital to building a loyal following and generating income online.
Outsource expertise – whether seeking advice from more experienced online entrepreneurs or outsourcing tasks to experts in the field, collaboration can be key to success.
Keep learning and adapting – the internet constantly evolves, so staying up-to-date with new trends and technologies is crucial.
Wrapping Up Making Money On Social Media
With creativity and effort, anyone can turn their social media presence into a lucrative income stream.
The opportunities are endless, from sponsored content and affiliate marketing to selling unique t-shirts and offering personalized coaching services.
Who knows, you could be the next big influencer or online entrepreneur!
Just remember building a successful social media presence takes time and effort.
Keep posting, engaging with your audience, and trying new things. Who knows what exciting opportunities might be just around the corner?
Happy social media-ing and making money!