Unveiling Threads: How Marketers Can Leverage Meta's Latest App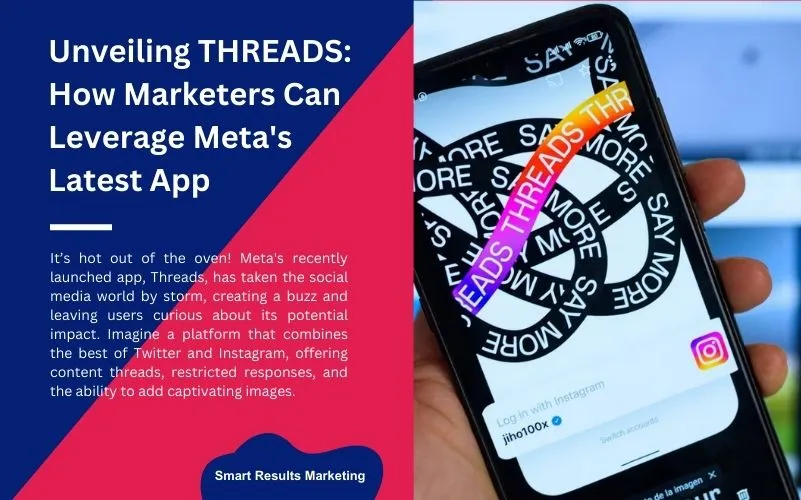 It's hot out of the oven! Meta's recently launched app, Threads, has taken the social media world by storm, creating a buzz and leaving users curious about its potential impact.
In a recent interview with The Verge, Instagram's head of product, Adam Mosseri, shared the motivation behind the development of Threads.
According to Mosseri, the recent "unpredictability" at Twitter led Instagram to recognize the need for a new platform.
While acknowledging that Twitter pioneered the space, Instagram saw an opportunity to create something open and beneficial for their existing community of users.
Let's explore the ins and outs of Threads, answer your latest questions, and uncover the potential it holds for users and marketers alike. 
What's the Buzz About Threads? What is it and how does it compare to Twitter?
Threads emerges as a promising contender in the social media landscape as Twitter imposes restrictions on daily tweet views.
With its striking resemblance to Twitter, Threads offers users an alternative platform that not only mirrors the familiar experience but also brings additional features to the table.
Imagine a platform that combines the best of Twitter and Instagram, offering content threads, restricted responses, and the ability to add captivating images.
Who's Loving Threads?
Meta is actively targeting creators and celebrities to join Threads, which could drive user adoption and attract audiences.
Threads has already captivated over 10 millions of users worldwide. 
Celebrities, creators, and even big brands are hopping on board to explore the unique opportunities it offers. 
As Meta's main revenue stream is ads, marketers can expect various advertising opportunities and potential paywalled content on the platform.It's yet to be announced, still uncertain on Meta's next moves
Let's Get Personal: Your Instagram Connection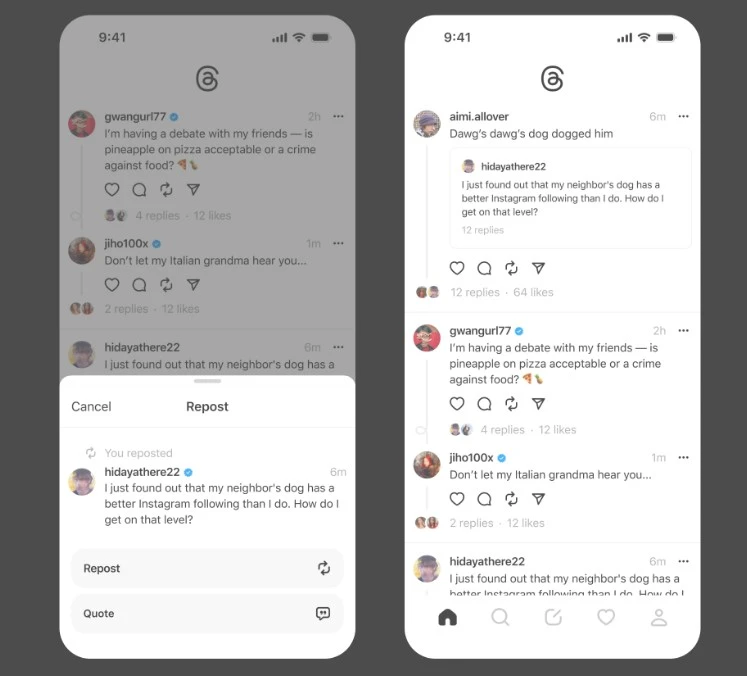 If you're an Instagram user, you're in luck!
It seamlessly integrates with Instagram, making it super easy to log in with your existing account. 
Your handle, bio, and verification status from Instagram will seamlessly migrate to Threads.
Connect with your followers, discover new creators, and dive into exciting conversations with the click of a button.
What Can You Do on Threads?
Share your thoughts, adventures, and stories with captivating text updates of up to 500 characters.
Spice up your posts with links, stunning photos, or even videos up to five minutes long.
Engage with others through likes, replies, and reposts, and watch your Threads feed come alive with vibrant conversations!
In Threads, you have the option to follow the same accounts you already do on Instagram, connecting with people who share your interests.
Plus, the app ensures accessibility with features like screen reader support and AI-generated image descriptions, just like on Instagram.
Data and Privacy Matters: What You Need to Know
Threads is built on the foundation of Instagram's established guidelines.
Content moderation and copyright protection are already integrated, ensuring a safe and enjoyable experience for all users.
But, data transfer from Instagram to Threads has raised concerns about privacy, particularly in the European Union (EU).
As Meta awaits guidance on data sharing regulations, the app's release in the EU remains uncertain.
As per the App Store listing, it will import various data from Instagram, including behavioral patterns, advertising information, health and fitness data, financial details, browsing history, and sensitive information. 
This has sparked discussions around Meta's data collection practices, with Jack Dorsey, former CEO of Twitter, referencing the extensive data gathering by stating,
"All your Threads belong to us." 
However, the data transfer from Instagram to Threads has led to limitations on the app's release in the EU,
as Meta awaits guidance on the Digital Markets Act—a regulation aimed at addressing digital economy monopolies and regulating data sharing.
The Ireland Data Protection Commission (DPC) has received information about the app and currently states that Threads will not be rolled out in the EU "at this point." 
These developments highlight the importance of data privacy and ongoing regulatory discussions in the digital landscape.
However, leveraging Instagram's existing guidelines ensures content moderation and copyright protection are already in place, potentially giving Threads an advantage over platforms like Twitter.
What's in Store for Marketers?
Threads opens up exciting possibilities for marketers.
With a built-in audience from Instagram, you can quickly grow your presence and connect with a fresh, engaged community. 
From hyperlocal conversations to authentic brand interactions, Threads offers marketers a unique platform to showcase their products and engage with their target audience.
Threads has the potential to disrupt the social media landscape and provide a fresh alternative for users seeking a Twitter-like experience.
For example, brands could leverage Threads to create dedicated pages for different shows or genres.
This real-time capability would enable conversations specific to each show or genre, fostering deeper engagement among fans.
Unveiling Threads: Questions Answered
1- How do I access the App?
Right now, you can get it through the iOS or Android apps.
Unfortunately, there's no desktop version available at the moment, and Meta hasn't given any indication of when it might become available.
2-Can I have a new username?
For now, Meta allows users to log in using their Instagram credentials, and you'll keep the same username you have on your Instagram account. It's a relief for those concerned about username security.
3- How does Threads work?  
On the app, users have the ability to search for, follow, and interact with creators and public figures.
With Threads, users can share text updates up to 500 characters in length and attach links, photos, and videos up to five minutes long. Interactions on the platform include likes, replies, and reposts, allowing for dynamic engagement and conversations.
3. Will Threads have ads?
Meta has stated that they won't monetize the platform this year. 
However, they haven't ruled out the possibility of introducing ads in the future.
Looking to find followers from other social media platforms? Currently, Threads doesn't support that feature.
However, Meta's vision is to make the app similar to rivals like Mastodon, enabling decentralization and allowing users to transfer their accounts to other platforms.
4- Wishing to find followers from other social media platforms on Threads?
Currently, this feature is not available, but Meta intends to make Threads compatible with platforms like Mastodon.
The goal is to allow users to transfer their accounts and followers to other supported apps through the use of ActivityPub.
5- Concerned about moderation on Threads? 
It follows similar guidelines to Instagram, meaning it has stricter rules on issues like nudity and hate speech.
Meta aims to enforce content regulations that Twitter has been lacking since Elon Musk took over.
Final Thoughts
While privacy concerns and data transfer issues remain, Meta's efforts to attract creators and leverage Instagram's user base could lead to significant user adoption.
Marketers should keep an eye on Threads and consider the opportunities it presents for hyperlocal conversations and engaging with a new audience.
Remember, Threads is continuously evolving, and more features may be introduced in the future.
I recommend giving the app a try and exploring it for yourself. You might be pleasantly surprised by what you discover!
If you enjoyed this article, feel free to dive into my practical articles. There's a lot more exciting content waiting for you!